The Mermaid Party: Sunday Night Supper Series!
In honor of Halloween, a time when you can be anything from a monster to a mermaid, I thought I'd catch you up on my niece's pick for her birthday theme last month.  She requested a mermaid party.  During our month-long birthday marathon we managed to throw together some pretty cute ideas for this theme for Sunday Night Supper.  Special thanks to a mer-friend of mine who gifted me the sparkly stretchy tail that completed Clair's mer-make-over!  Here are the highlights if you are looking for ideas for your own Mermaid Party!
The Center Piece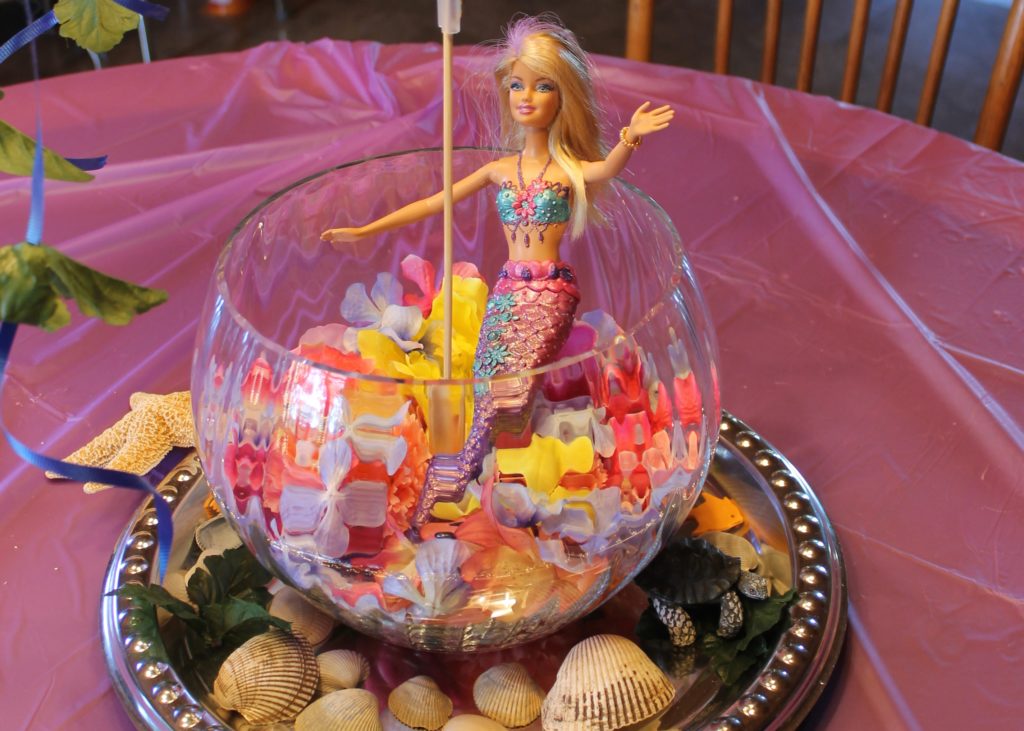 Give my mom a glass bowl and a round tray and she will make you a center piece!  Seashells, rocks and flowers from a Hawaiian lei, plus a recycled Happy Birthday balloon and a mermaid Barbie doll and you have a colorful fun greeting for the birthday girl!
The special touch was this "under-the-sea garland" my mom made and hung from the light fixture over the dining room table.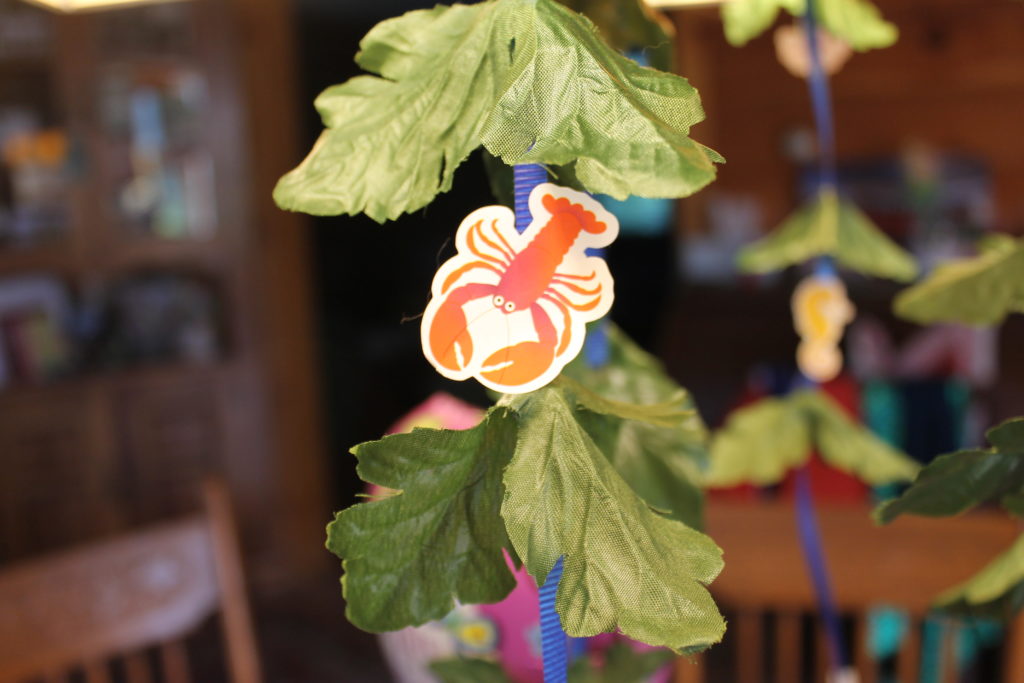 This simple decoration was made with ribbon, leaves stripped from silk flowers and strung upside down to give them a sea weed effect, and sea creature stickers that included starfish and lobster.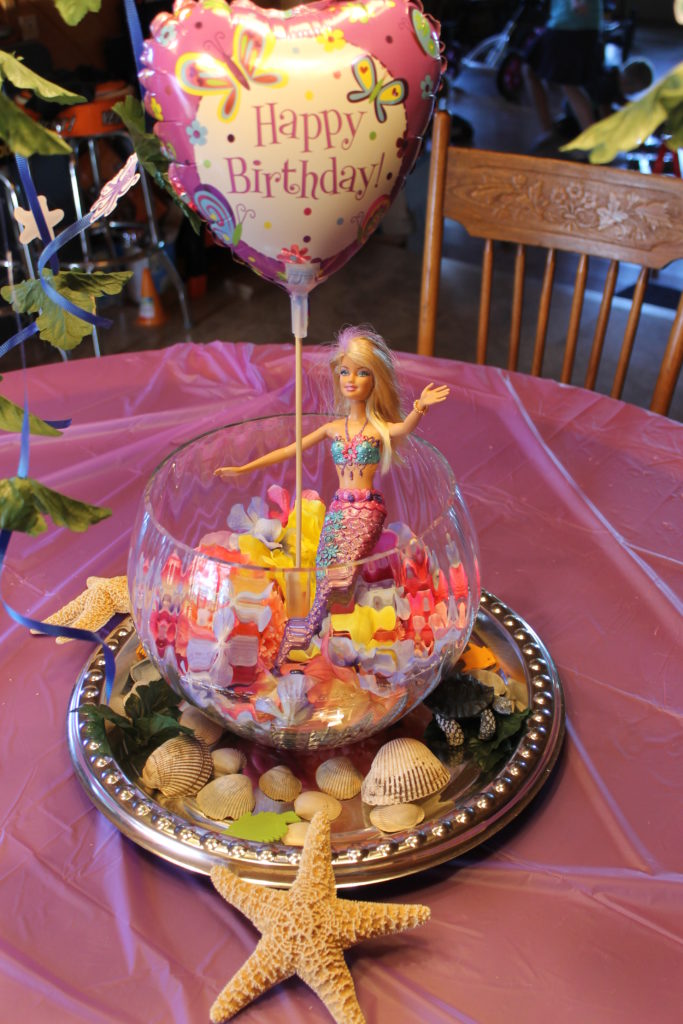 The Craft
We usually include one decoration that doubles as a craft that we can do together.  I had help coloring the images for Vincent's Mario Blocks for his birthday party earlier this year.  For this mermaid-themed party we chose cookie decorating-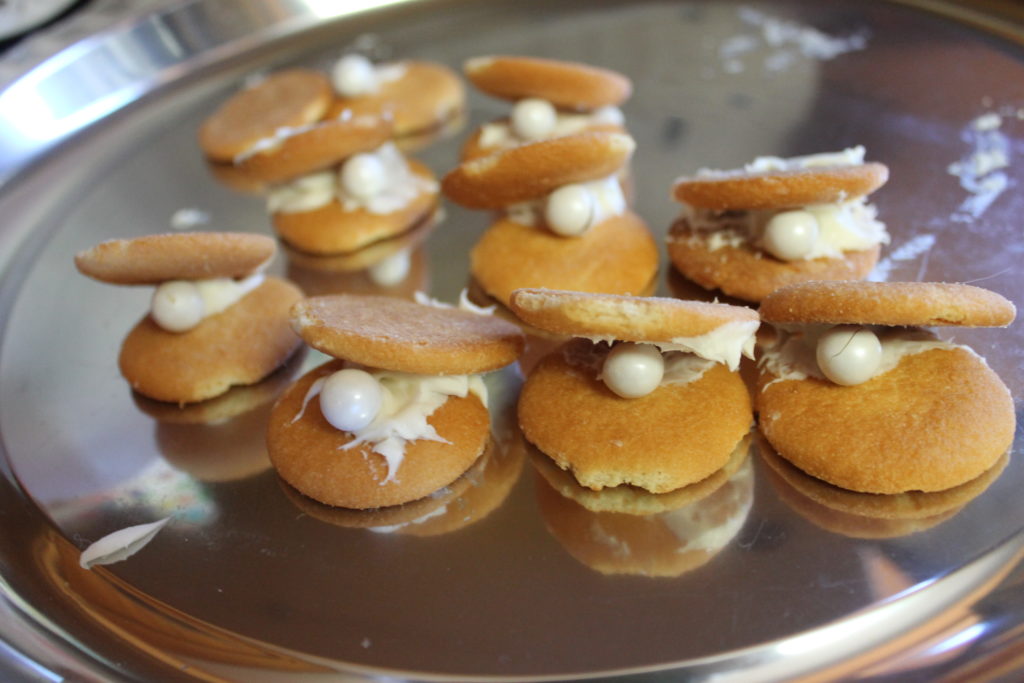 And made these "clam-shell with pearl" cookie decorations using only Nilla Wafers, some white frosting and white candy sixlets as the pearls!  Simple and easy!
The Cake
While we had various styles for the cakes of Sunday Night Supper last year, this year the trend seems to be the Bundt cake!  We had the Jeep cake and now we have the Mermaid Cake!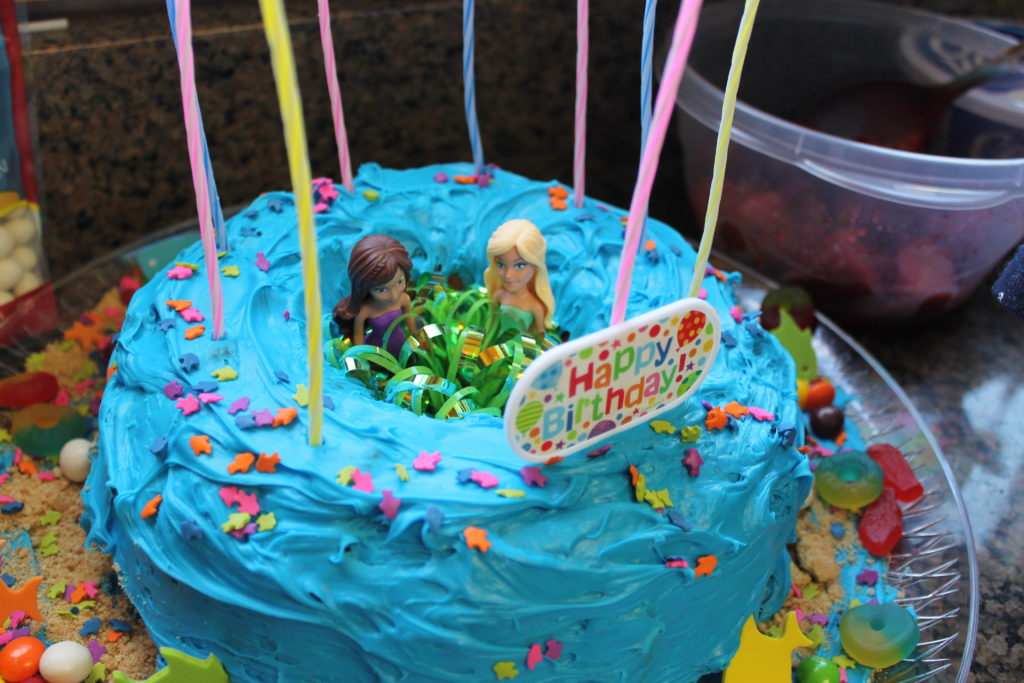 Frosted with this already colored bright blue frosting and candy fish confetti, my mom added all the seaside paraphernalia around the base.  This included life savers, Swedish fish and graham crackers crunched up for sand.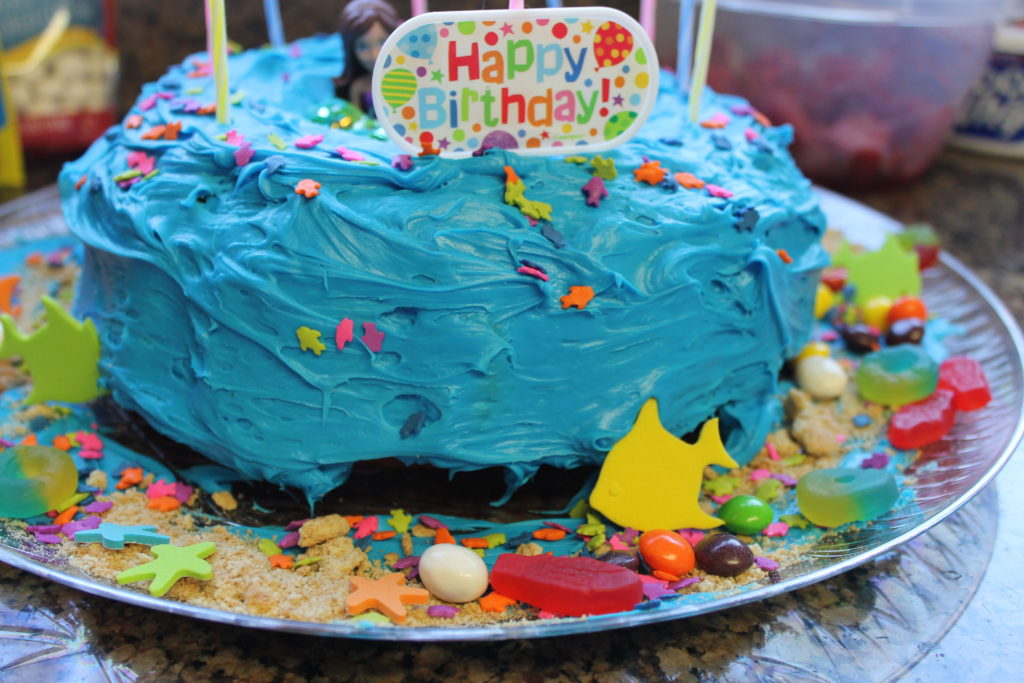 Then there are the little mermaids swimming in the center of the cake.  My mom reused a fun frilly package decoration to create the waves or bubble look around them, but what you couldn't see right away was that she wrapped the little dolls legs with some silk plant leaves to turn them into mermaids.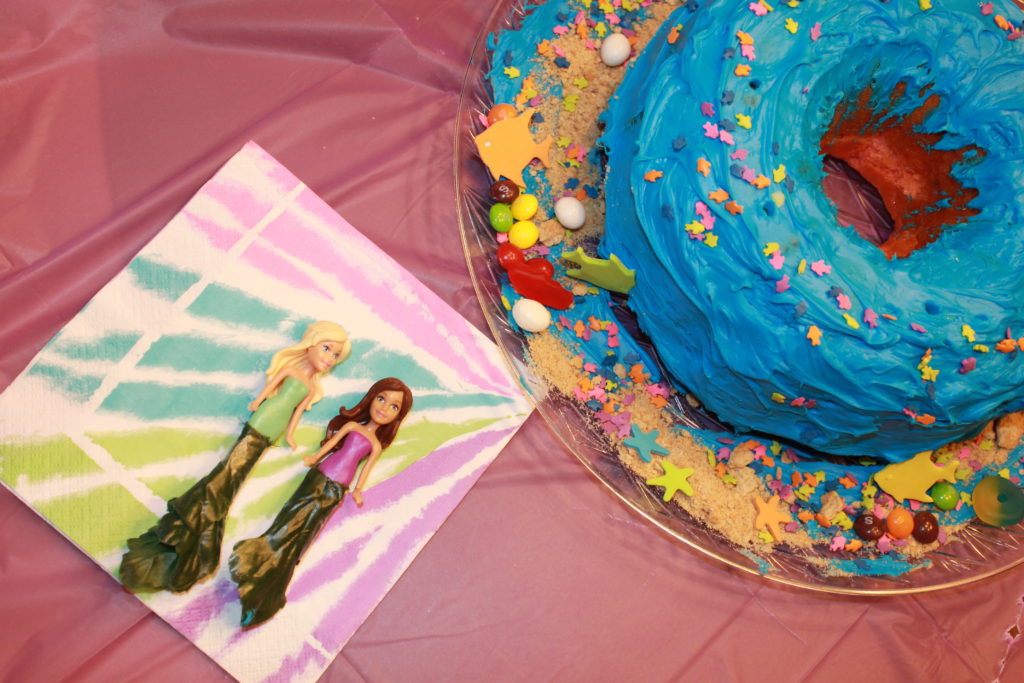 These are the tips and tricks that turn dollar store figurines into fairies and mermaids!
The Costume
And finally- my favorite part of the Birthday Party was giving Clair her very own mermaid-make-over!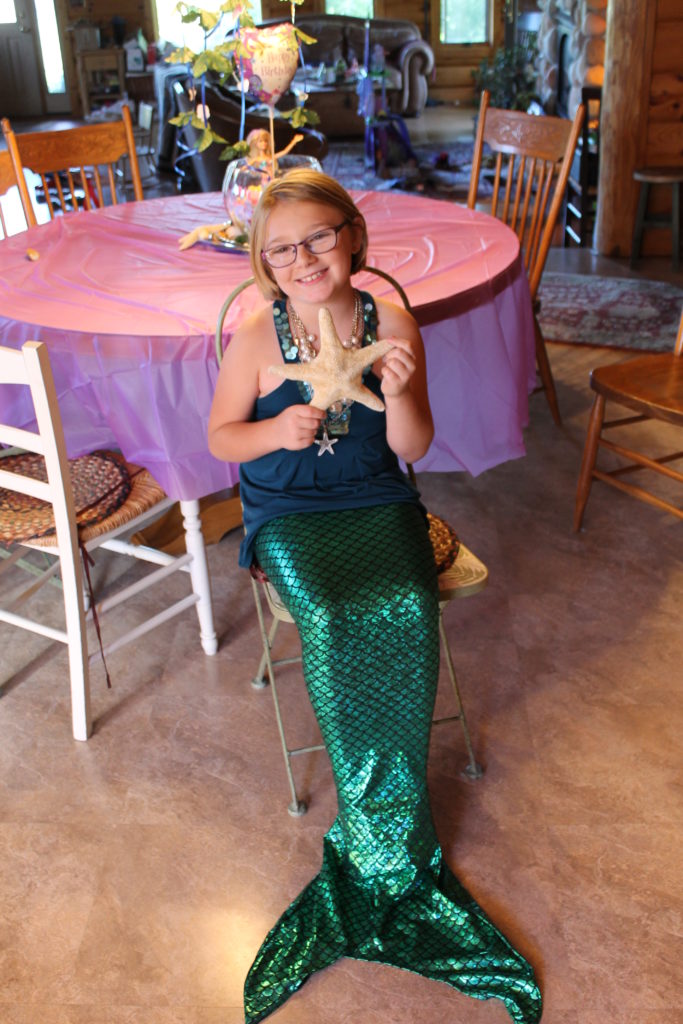 But if you are thinking the mermaid tail would be a fun addition to a Halloween costume- it is more of a sitting costume, maybe even a standing costume, but definitely not a walking costume.
And there you have it! Another example of how to make a birthday dinner extra special without over spending or going too crazy with ideas from Pinterest!
You Might Also Like: