Sunday Night Supper: Easter Recap
It rained, it poured.  Puddles grew into lakes in the yard.  The sun refused to shine.  We were all thinking about Halloween when we trick or treated through a rainstorm we kept thinking would let up (and it never did).  So this holiday we decided on a Plan B.  And that's how we found ourselves on a drizzly Sunday afternoon calling this structure on my property:  The Easter Barn!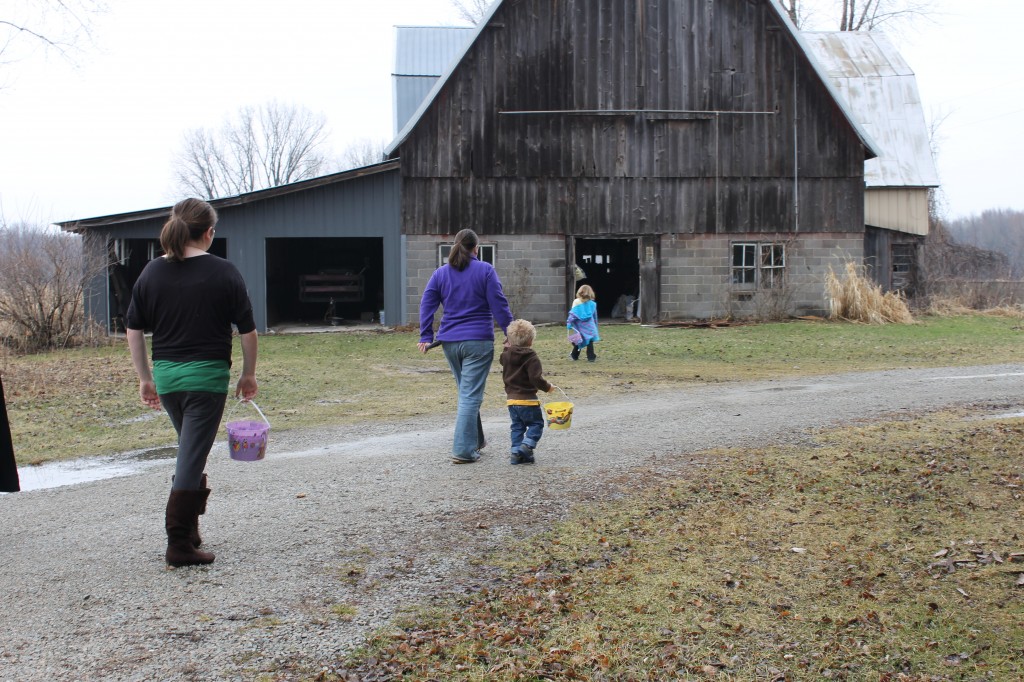 Let's all go to the Easter Barn for an egghunt!  We were having a break in the showers when we took this picture.  It was nice to know that 56 plastic eggs were safe and dry inside.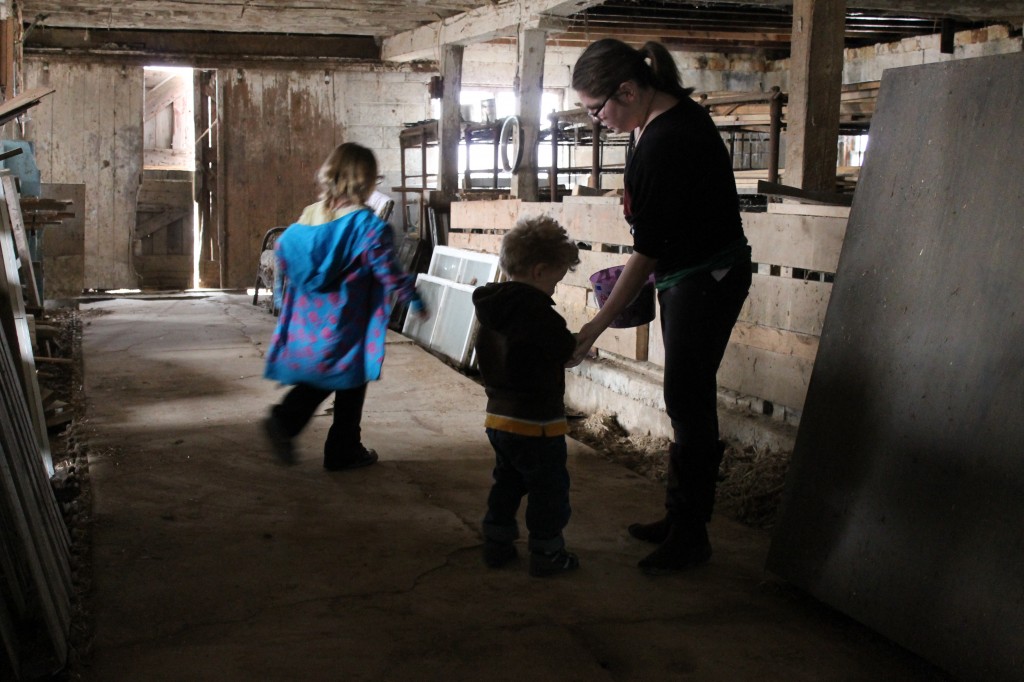 Besides serving as an Easter Barn, the barn actually acts as storage for building supplies from our house remodel.  One day we hope to fill it with happy minature animals of all kinds.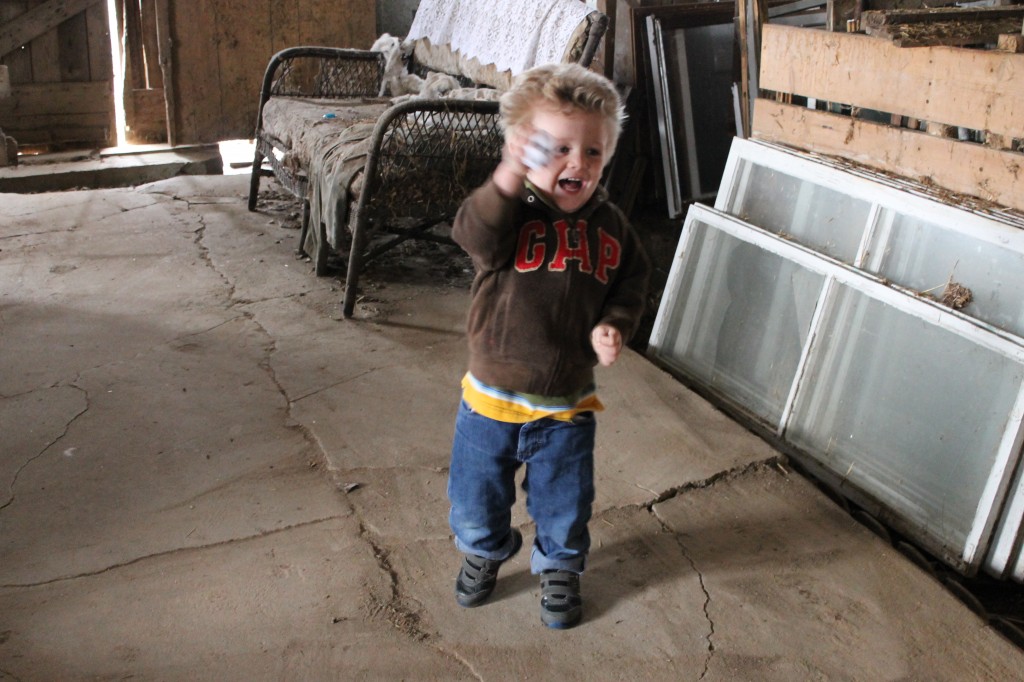 For now, we'll settle for filling it with this happy little boy!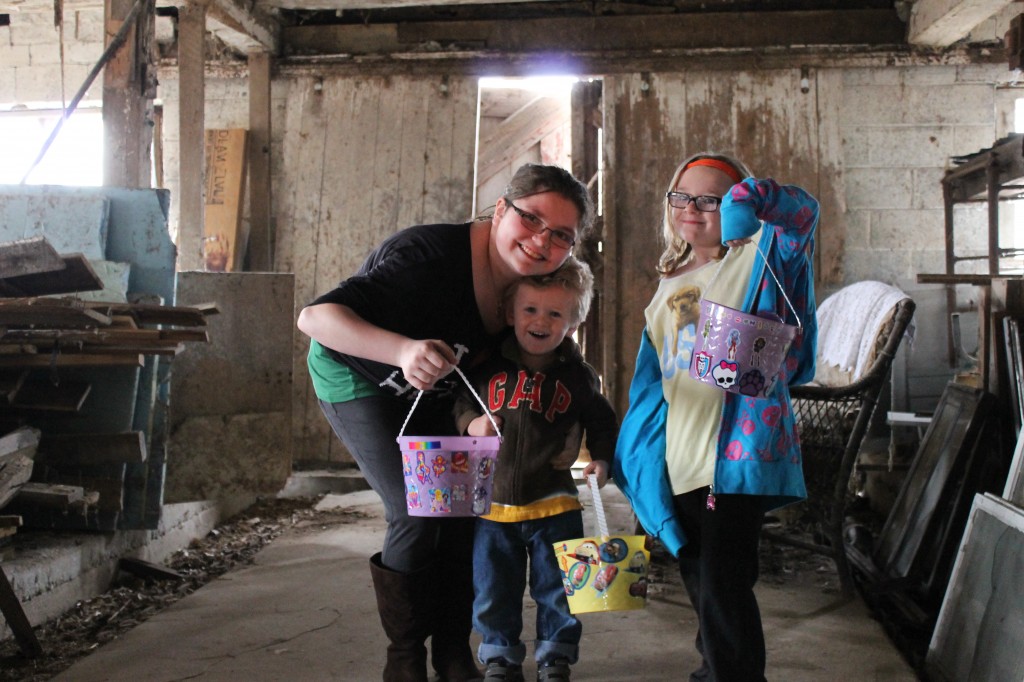 Here the kids show off their fantastic buckets that they decorated last weekend.  Speaking of which, I think I hinted that I would share my final Easter Dinner table decor with all of you!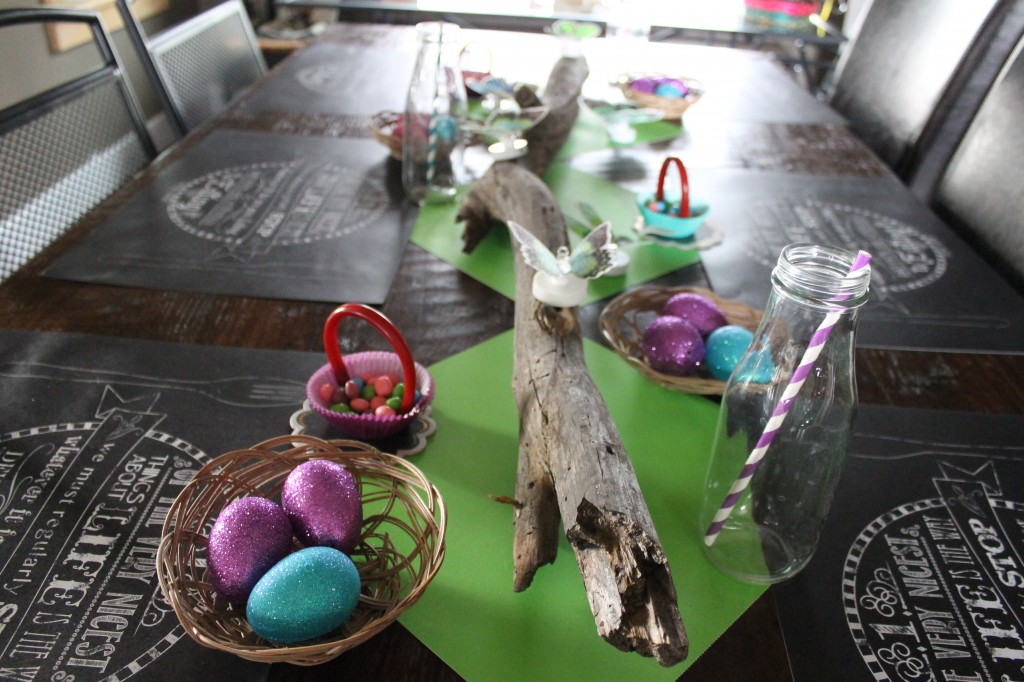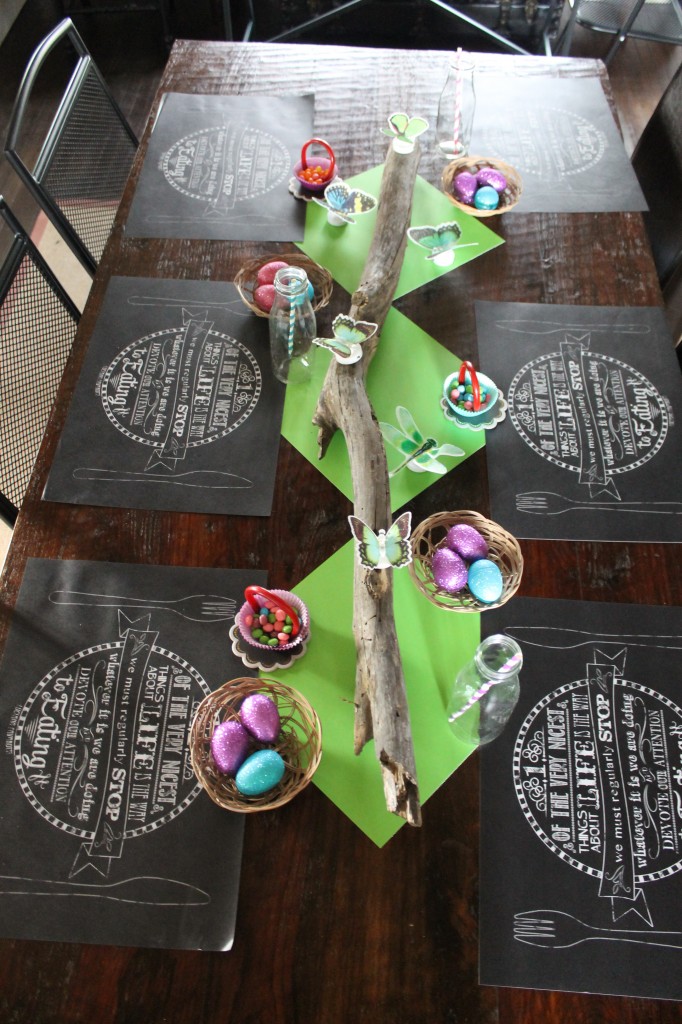 The black and white placemats stayed and the glam rock glitter eggs were pretty much my favorite, until my mother introduced me to these butterflies…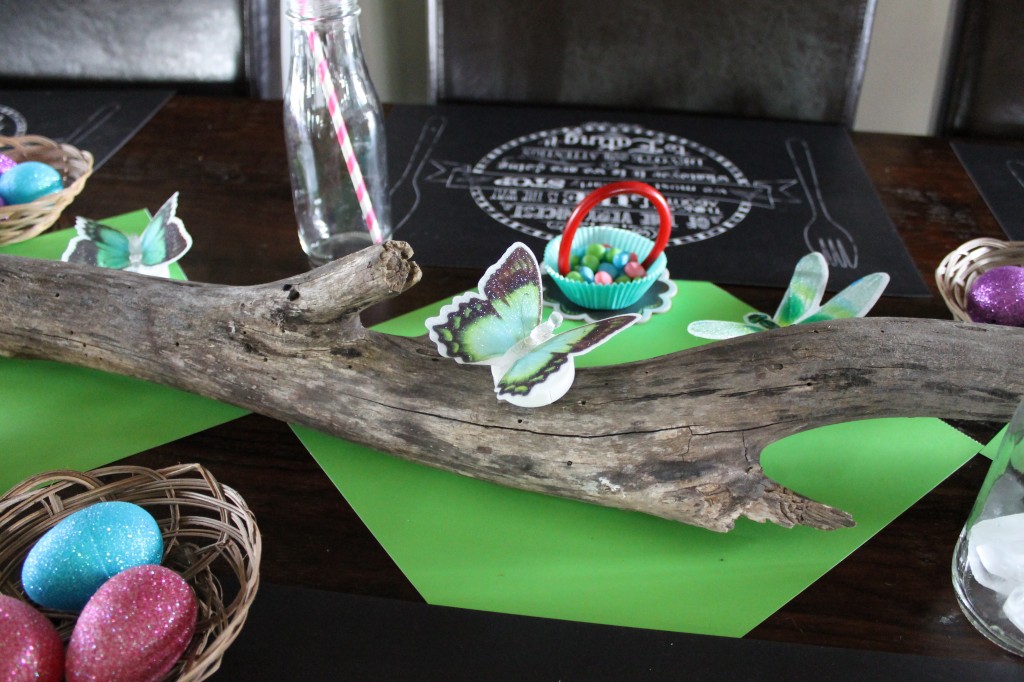 You see them hanging out there on that branch from my yard?  Oh, it gets better…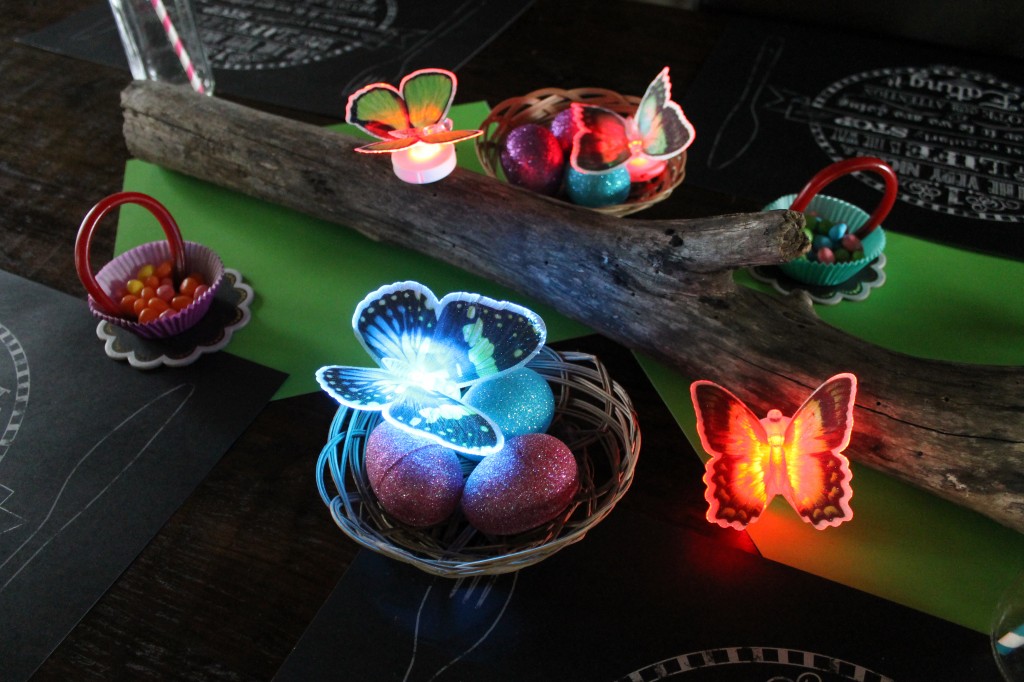 They glow…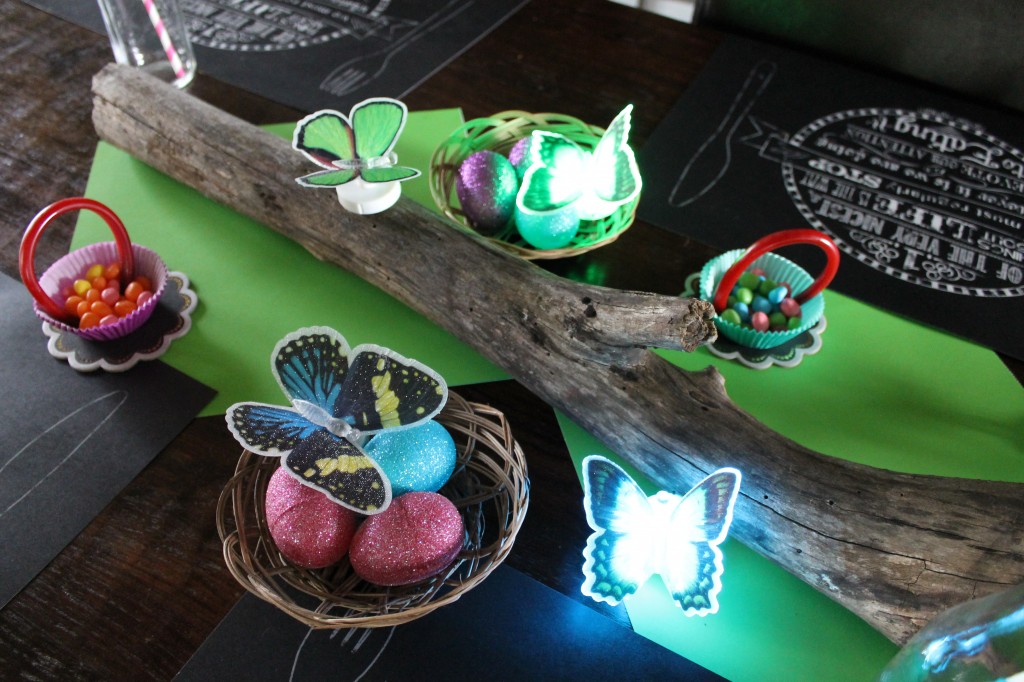 And they don't just GLOW…they change colors…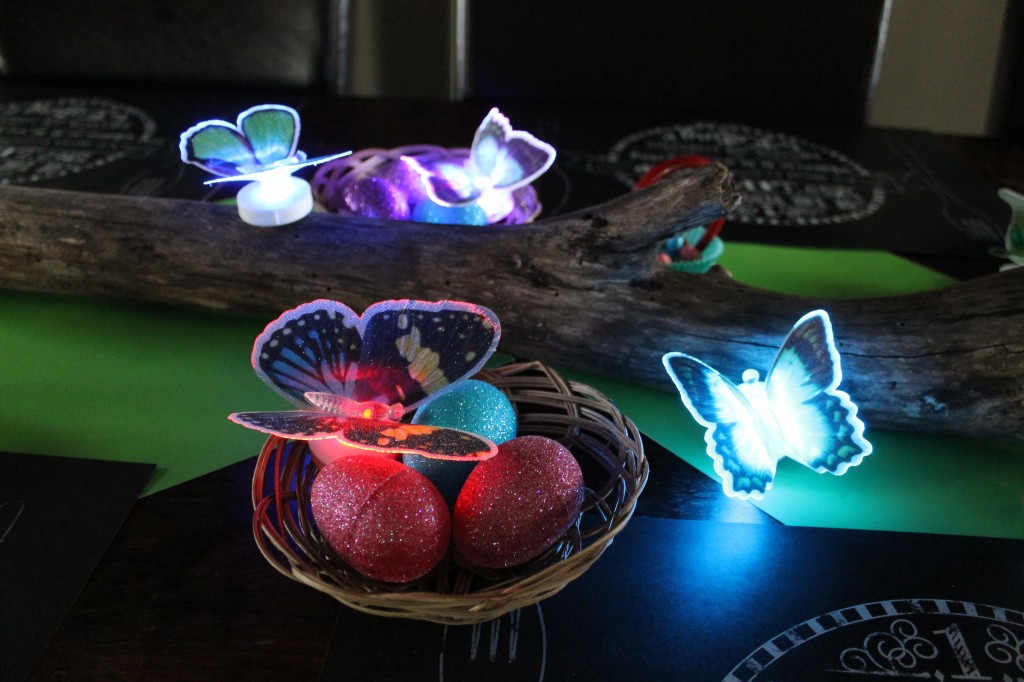 Fiber-optically!  Pure Easter magic!  I like the symbolism of the butterfly for Easter.  For me- it just fits.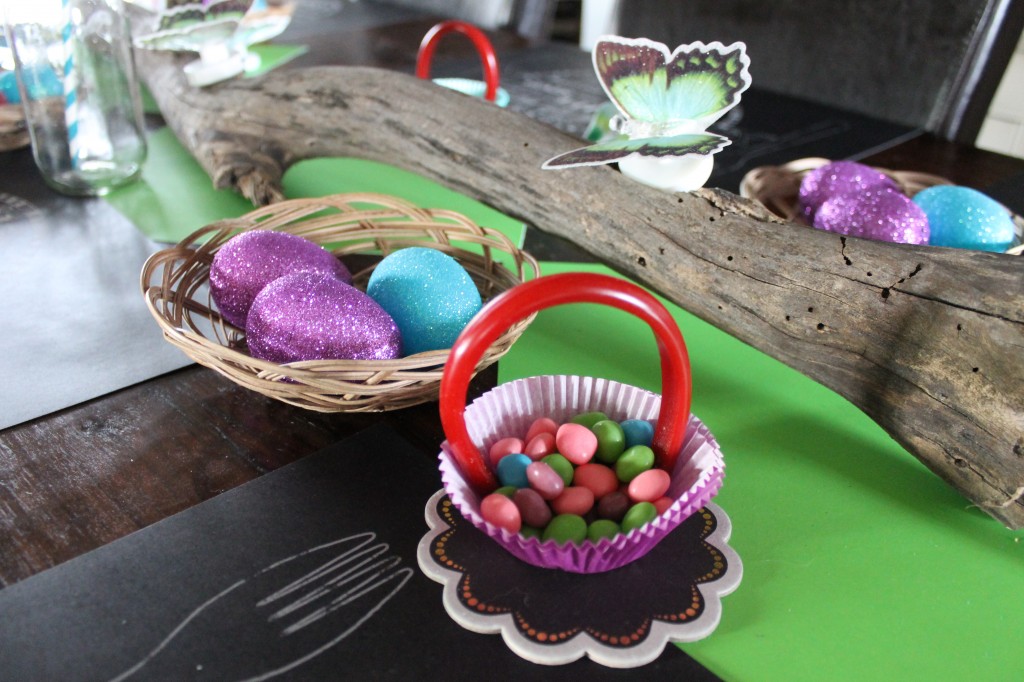 And as our edible tabletop treat we made these little "baskets" with licorice rope handles and cupcake papers, filled with jelly beans.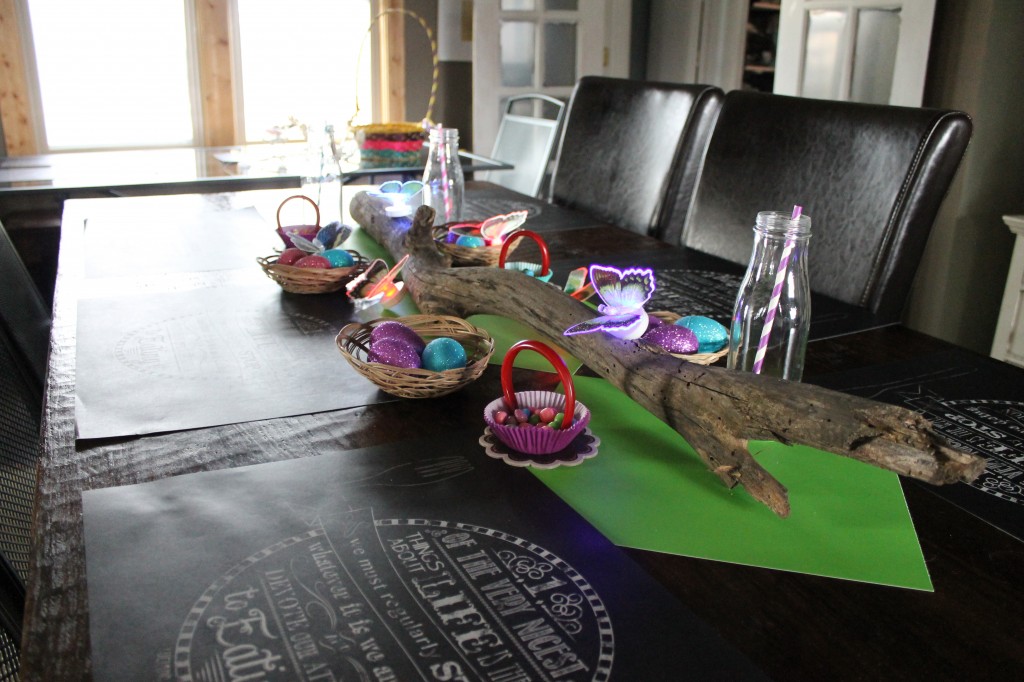 Here are a few snapshots of dinner!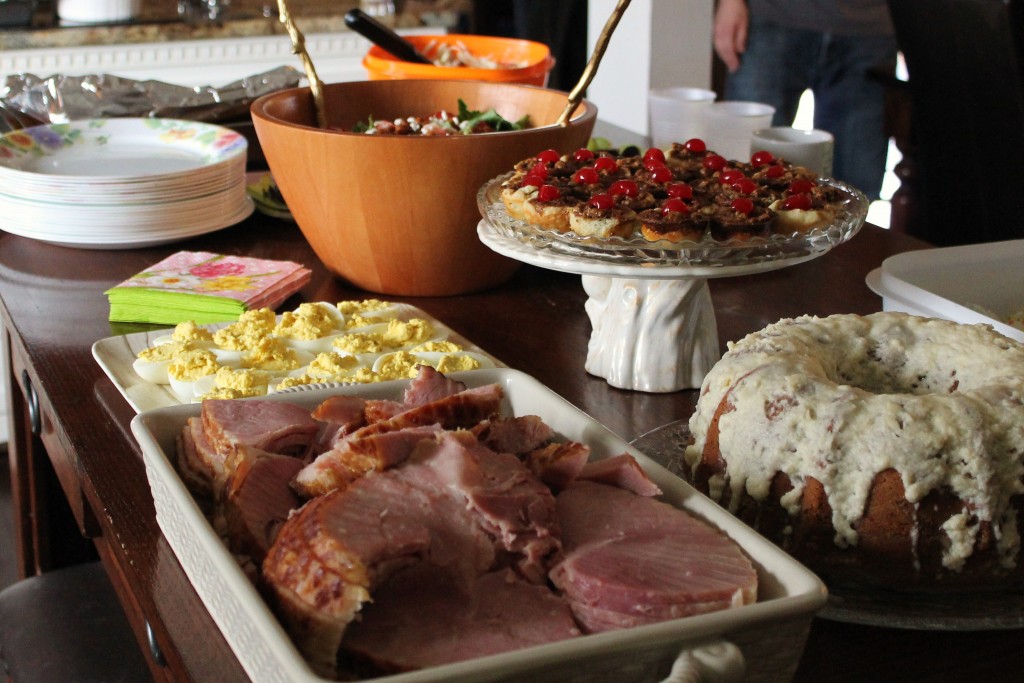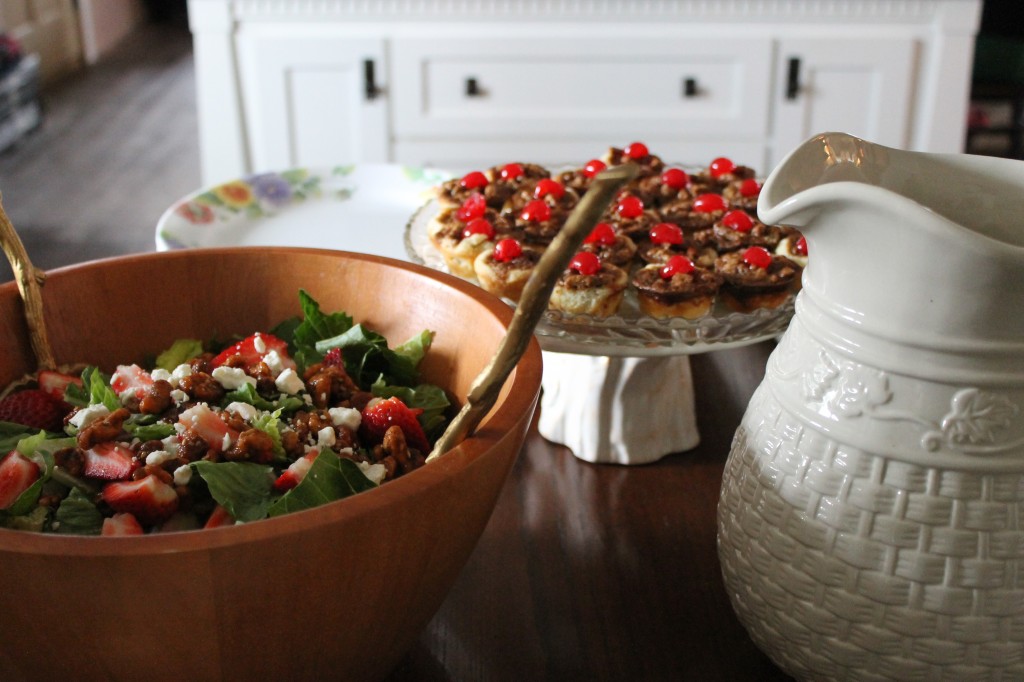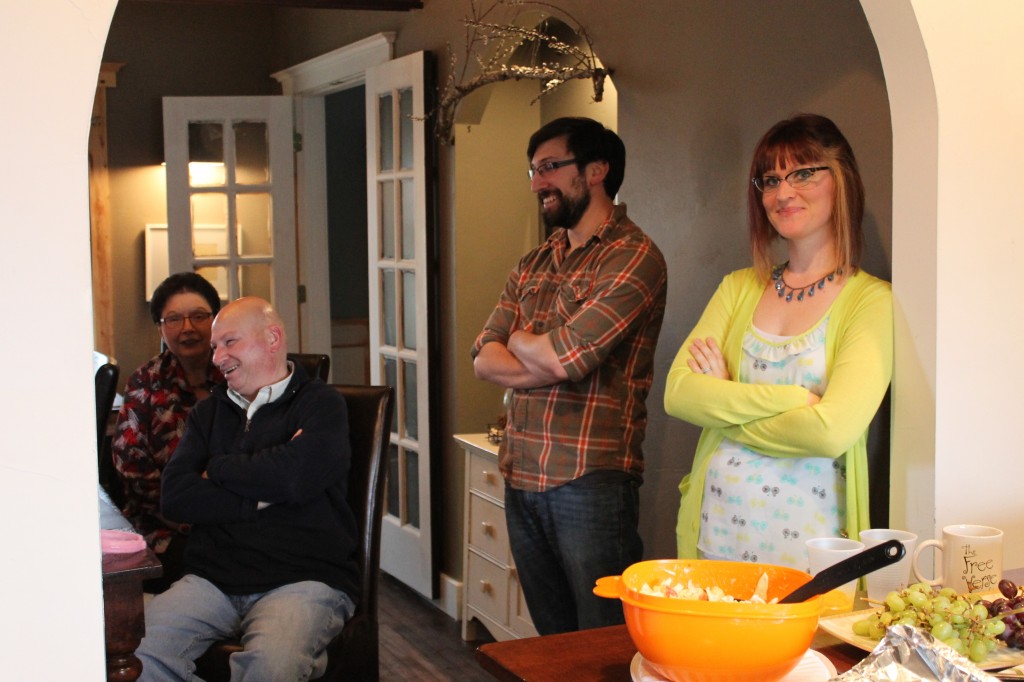 See that valance looking thing in the window?  I actually made that with a birch branch that is wired to hooks screwed into the window jam and dragonfly wrapping paper cut and taped up behind it.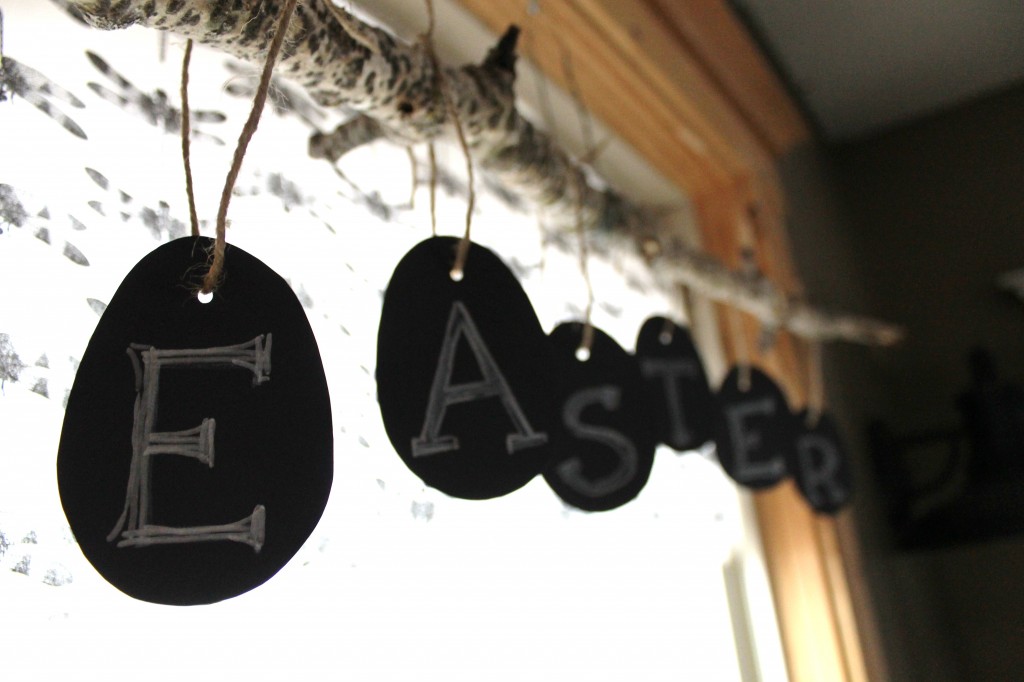 And then I added HAPPY EASTER on black paper eggs with a chalk marker & tied 'em up with twine.  And that's it for the Easter Decorating recap!
I leave this Sunday Night Supper post with my usual gratuitous image of cuteness & joy!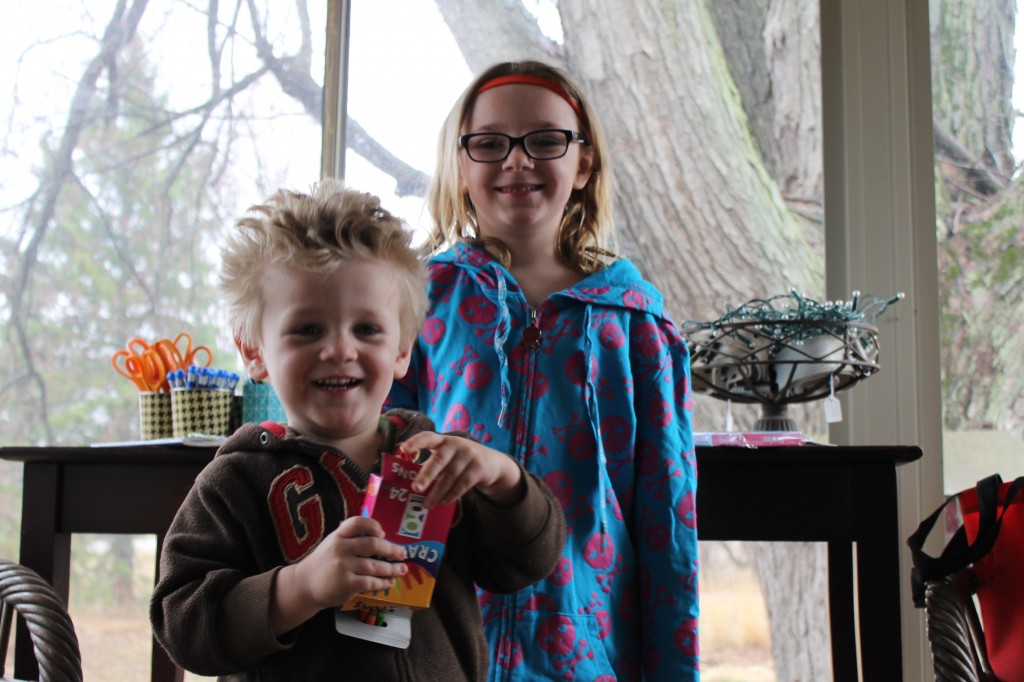 And one of a little dog who got a hot pink sock monkey in his easter basket!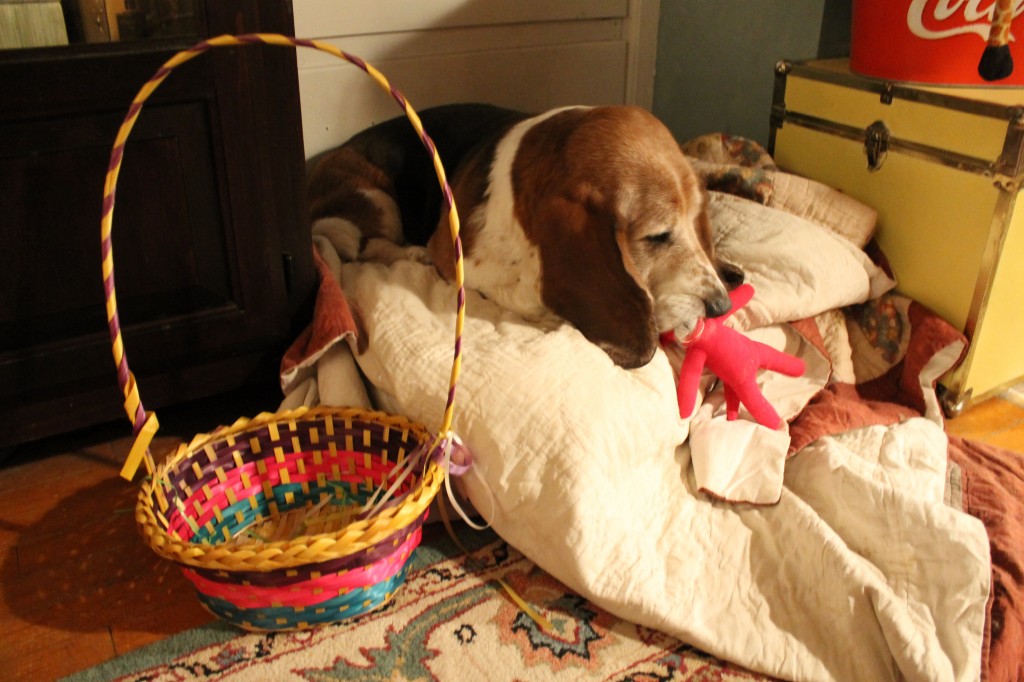 Pure Easter Magic!