10 Ways to Add Turquoise into your Home!
If you saw the cover of Pottery Barn spring than you already know that for two years in a row they are pushing indigo as the big color trend.  But for those of you looking for something a little lighter- might I suggest these easy ways to incorporate turquoise into your home…
Here's one home with 10 ways to use Turquoise!
At the entry…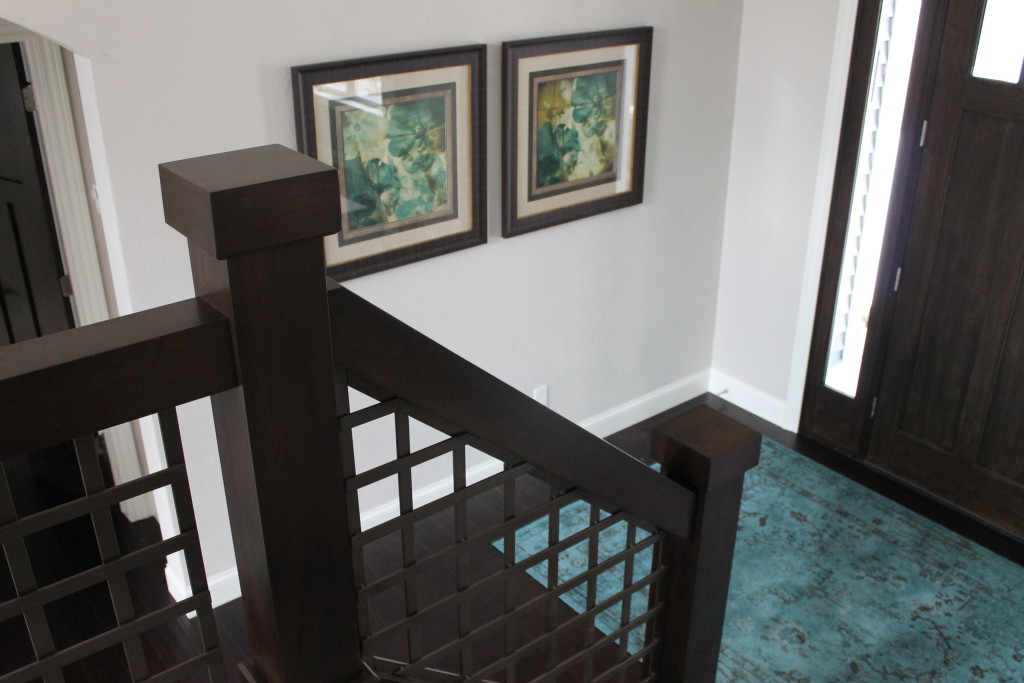 A fun rug at the foyer of this home adds a touch of turquoise drama.  Surrounded by hardwood floors and a neutral wall the color is subtle, even though it is saturated.  Bonus points for the touches of turquoise in the foyer art.
As a fun accent room…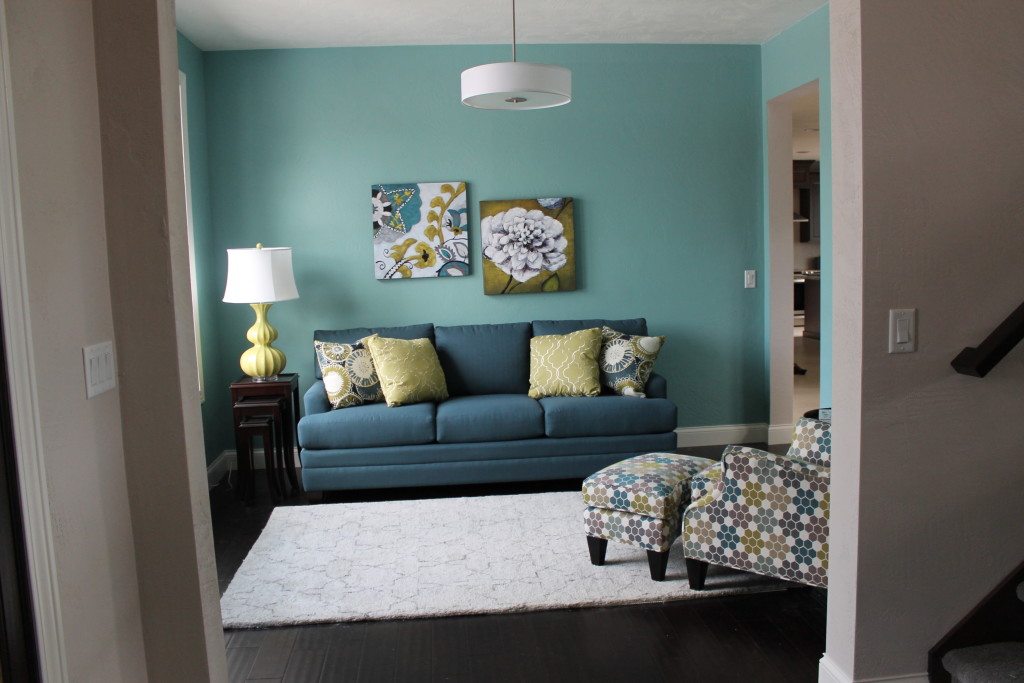 Directly off the foyer in the floor plan is a fun flex space made even more exciting by this bright and bold monochromatic turquoise scheme.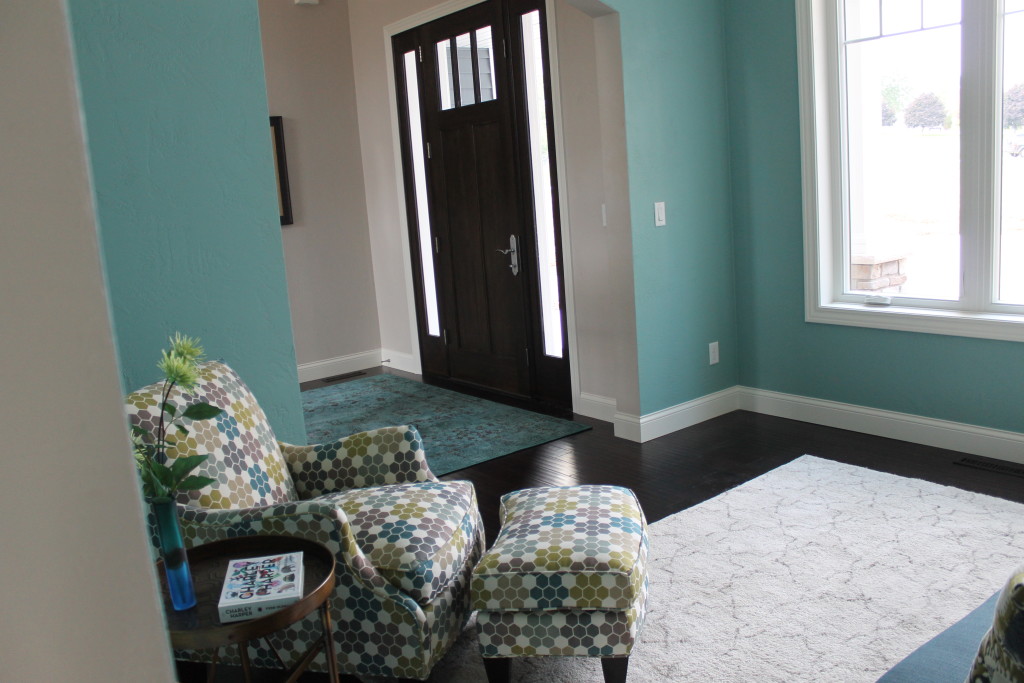 See the fun entry rug and how it now ties into this space!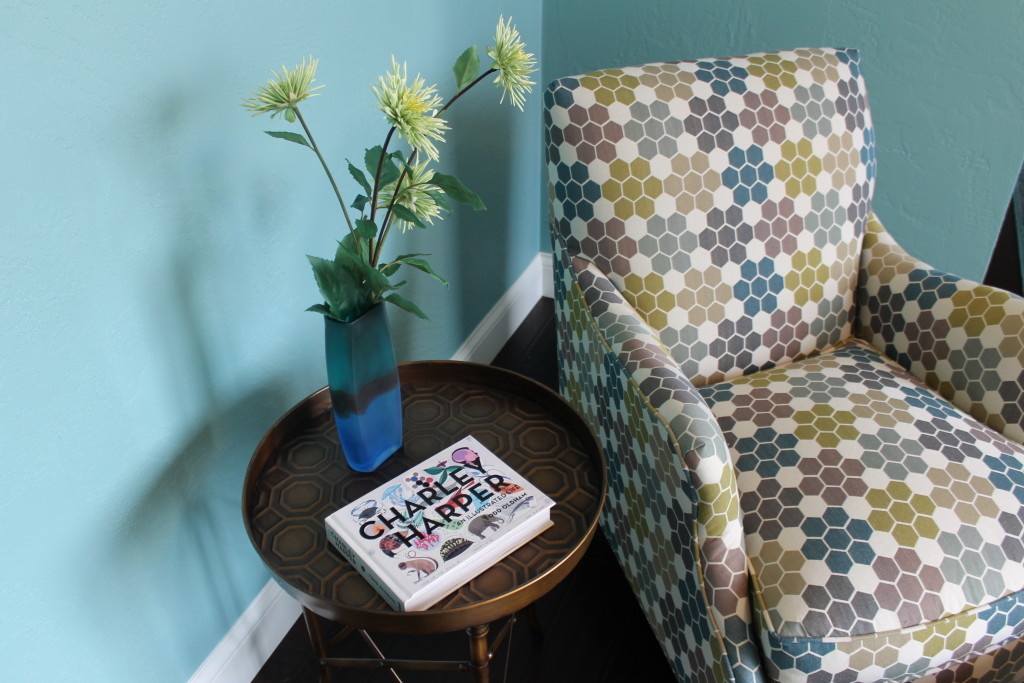 This room also connects to the dining and sunroom through this doorway.  I love how the "peek" into the dining room also let's you see beyond to the sunroom fireplace niche, painted a shade of- what else?  Turquoise.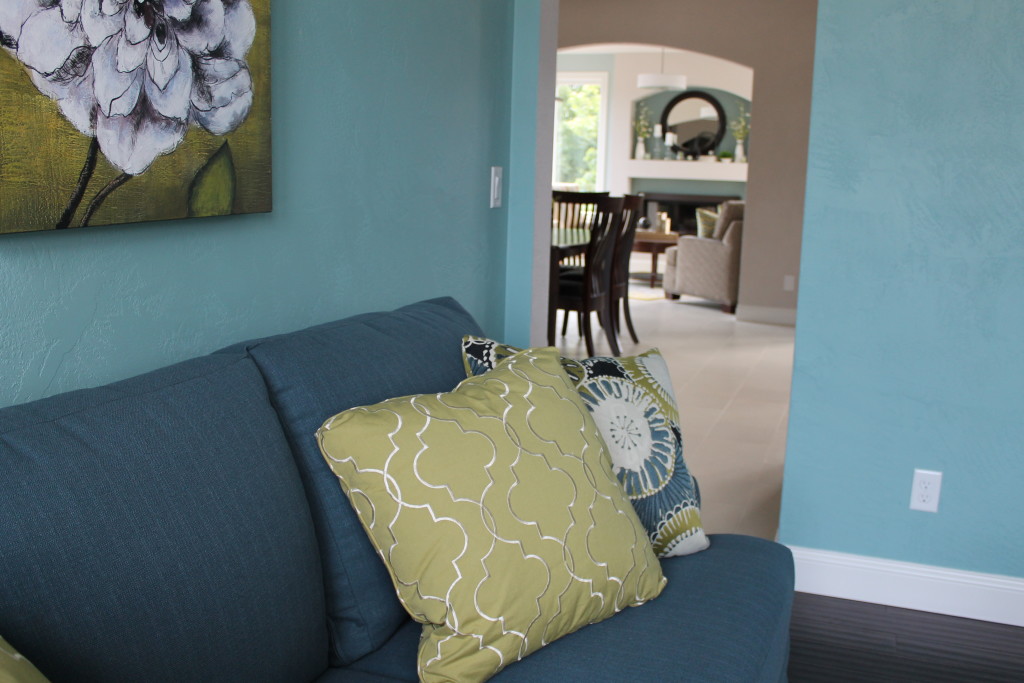 Bold and dramatic niche color!
Here's a better look at that accent wall in the sunroom: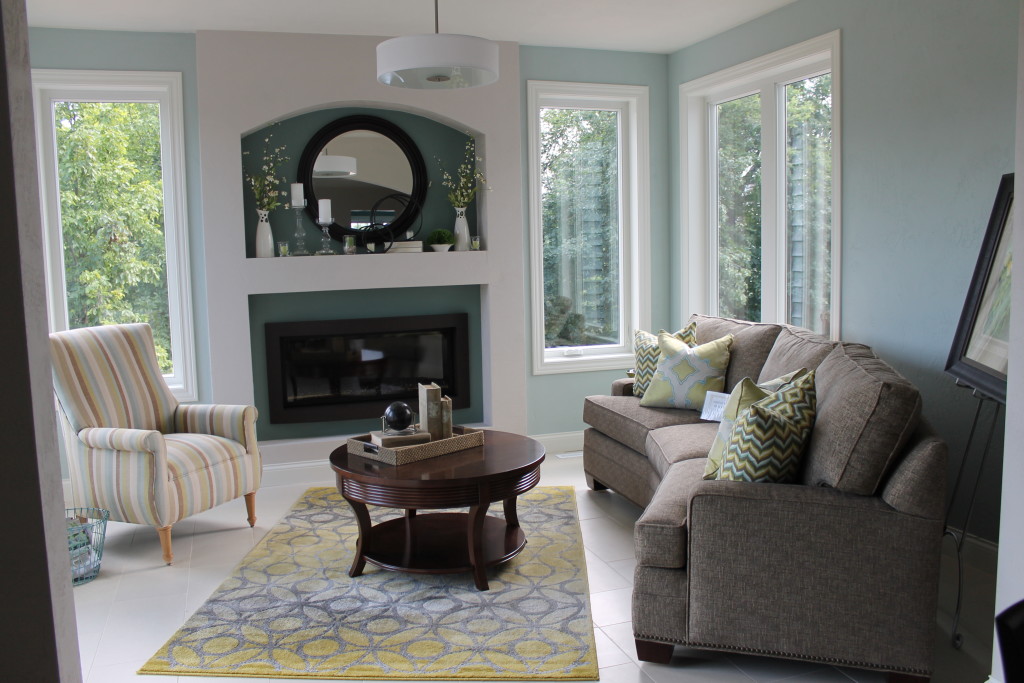 Note the monochromatic way the softer shade of turquoise floats on the other walls, while the plaster framing around the fireplace and niche remain a sharp white.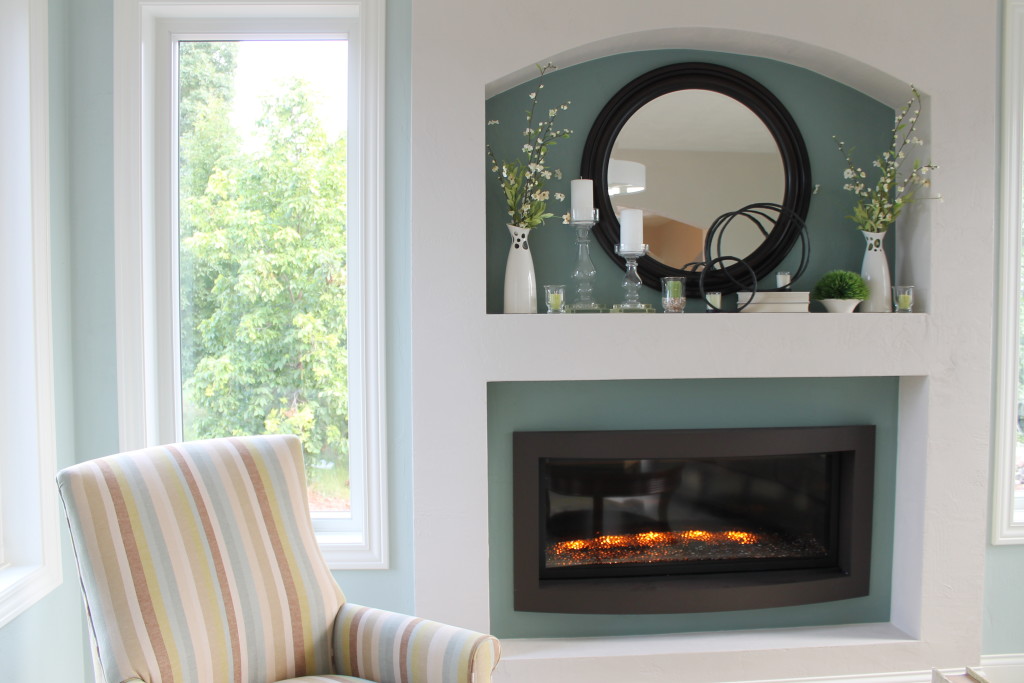 Here's a close-up on the white accessories accented with a sprig of garden green: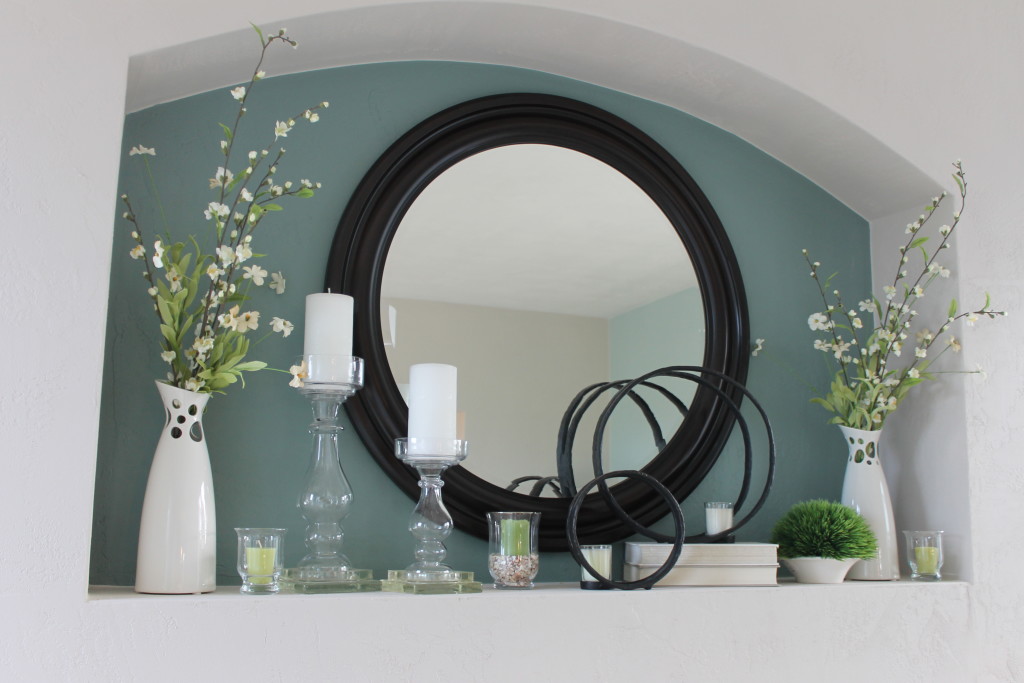 It's a great color for a sectional…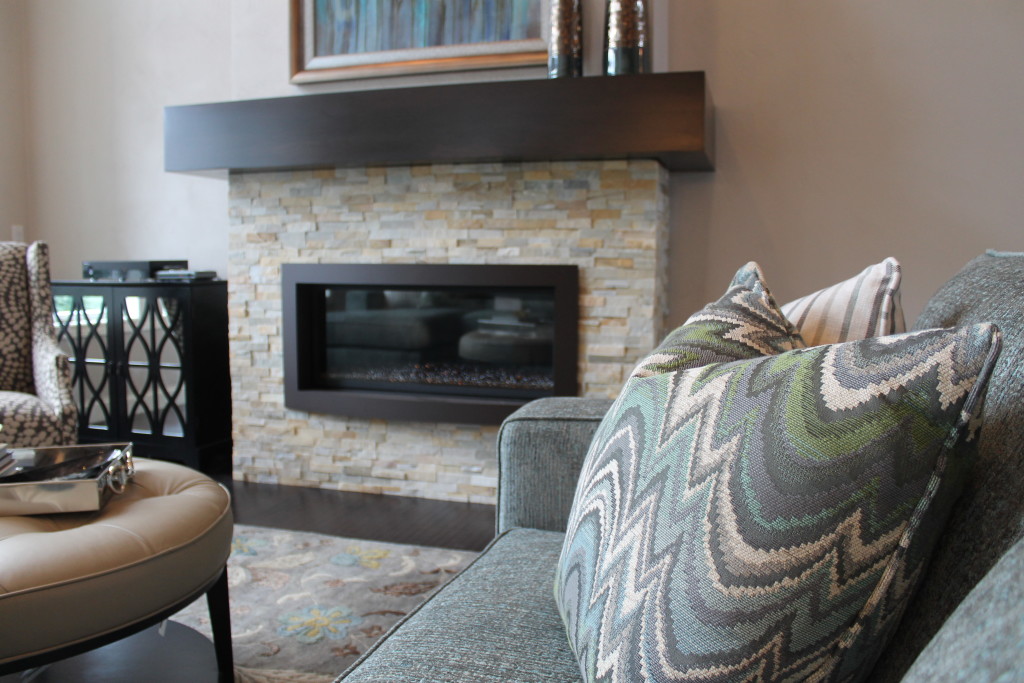 Once again the room is kept neutral by white trim, wood floors and a stone fireplace surround that lends itself nicely to this more rugged shade of turquoise on a chenille covered sectional.  The right accent pillows never hurt either!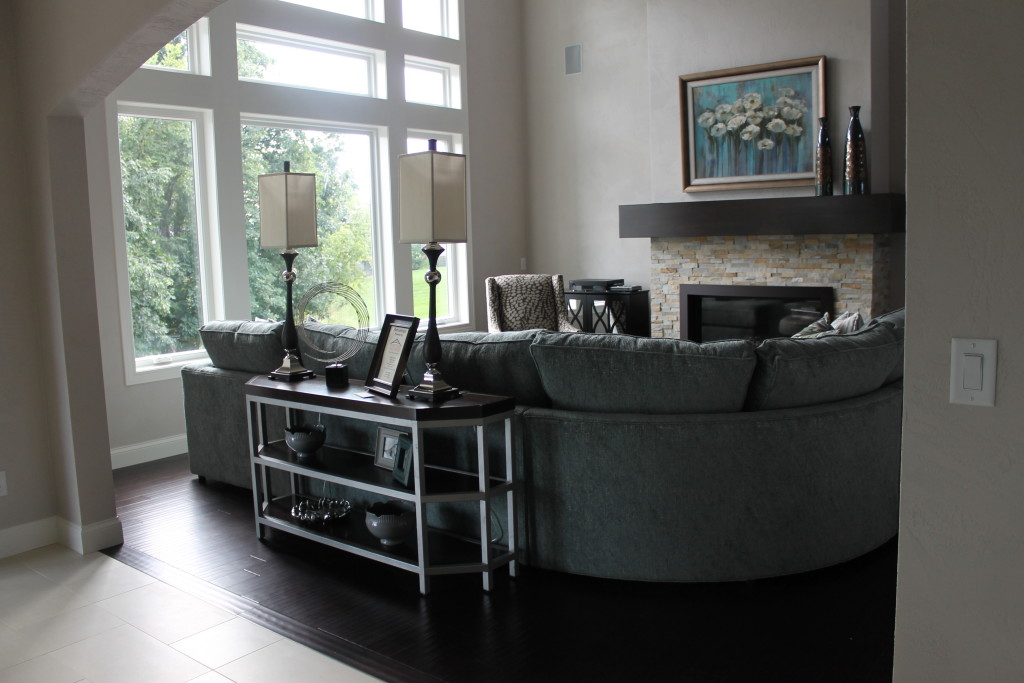 Luxurious wall color in a Master Suite!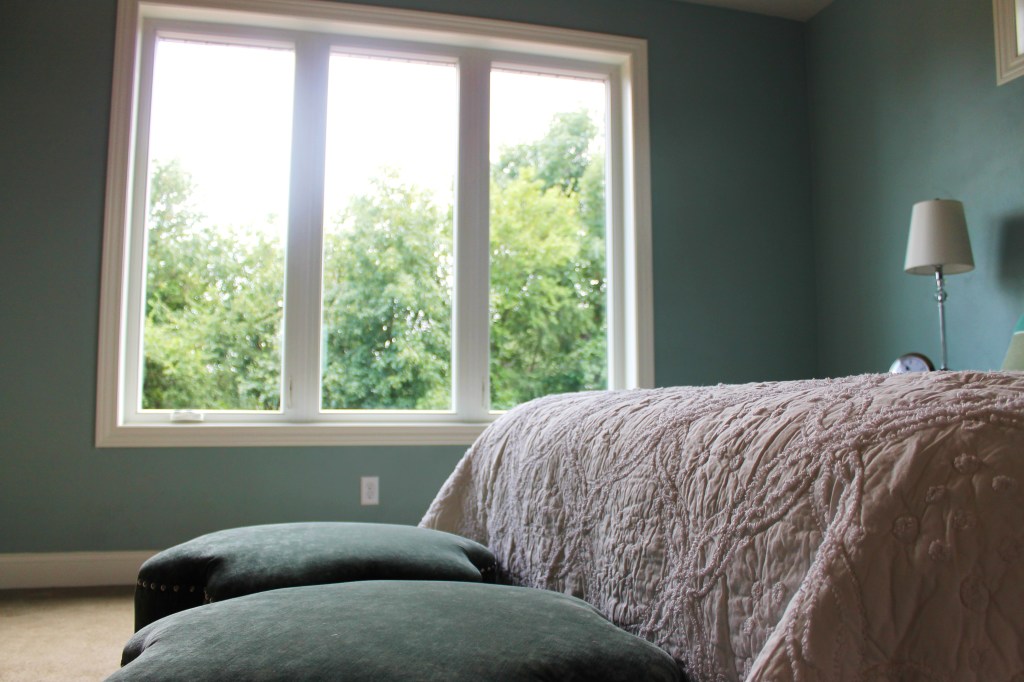 First featured in the post How to Create a Dreamy Master Suite this turquoise is reminiscent of the blues of the ocean waves, a tranquil and luxurious scheme for any master retreat!
Dramatic touch for an upholstered pair of stools!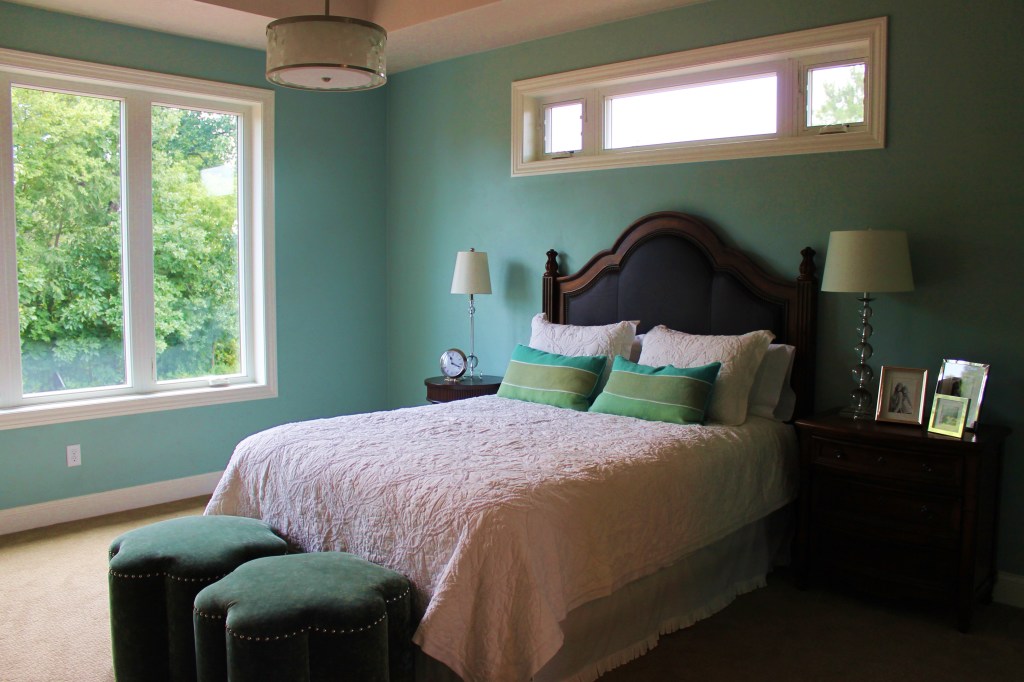 In a world of fresh white bedding and hotel style staging, there is room for the drama of these walls AND the drama of these foot stools and accent pillows!
Super fun guest bath Color!
Bathrooms are small and there aren't many walls to infuse with color- so why not go big and bold for the bathroom off the guest bedroom!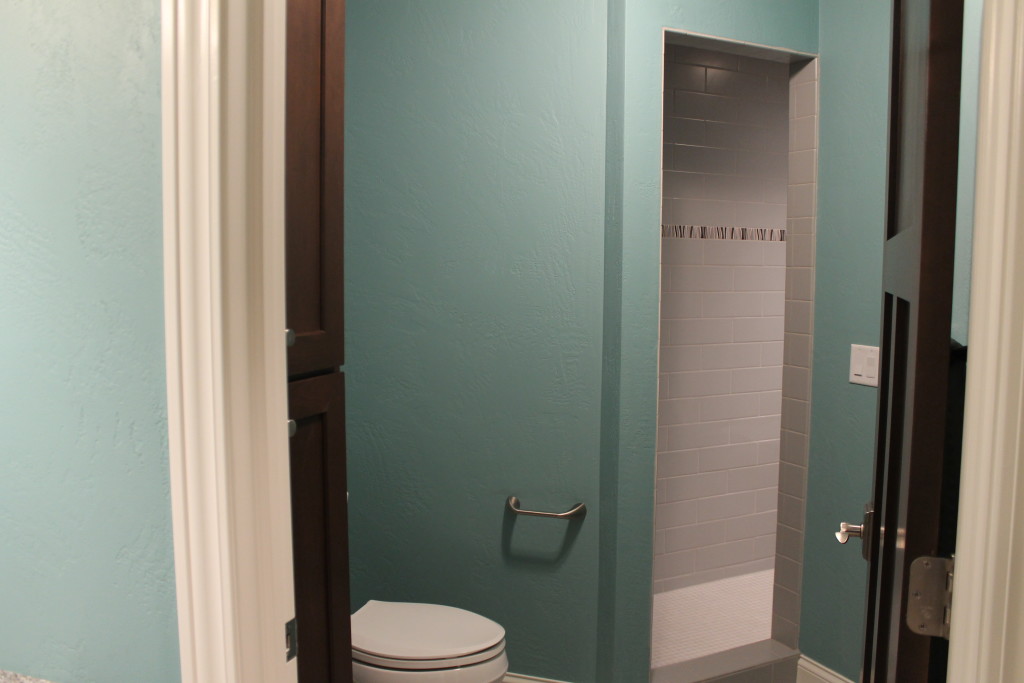 You can create a calming effect by using a softer grey in the tile shower with a small accent of the color mixed into this mosaic.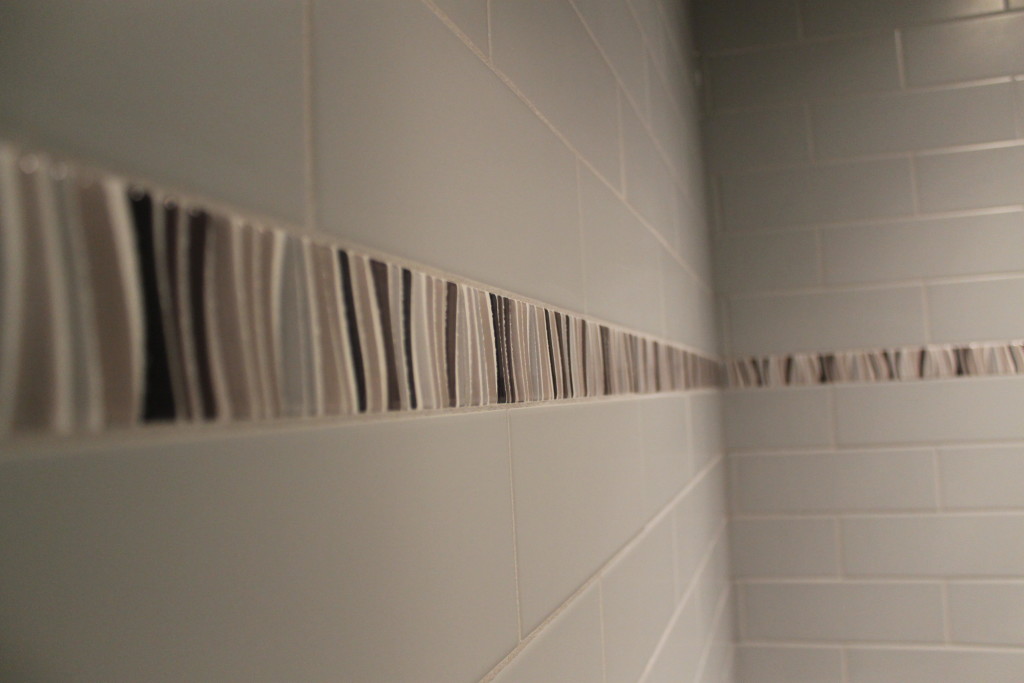 The turquoise is super subtle in this tile mosaic, but it is enough to connect with the rest of the bathroom.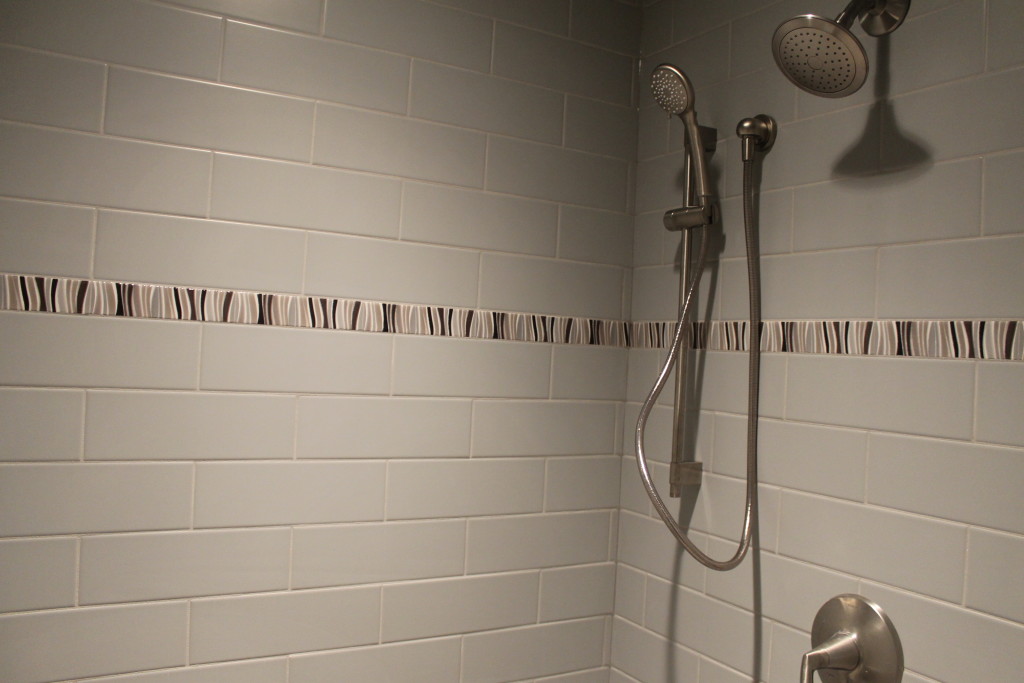 As a super fun soap dish!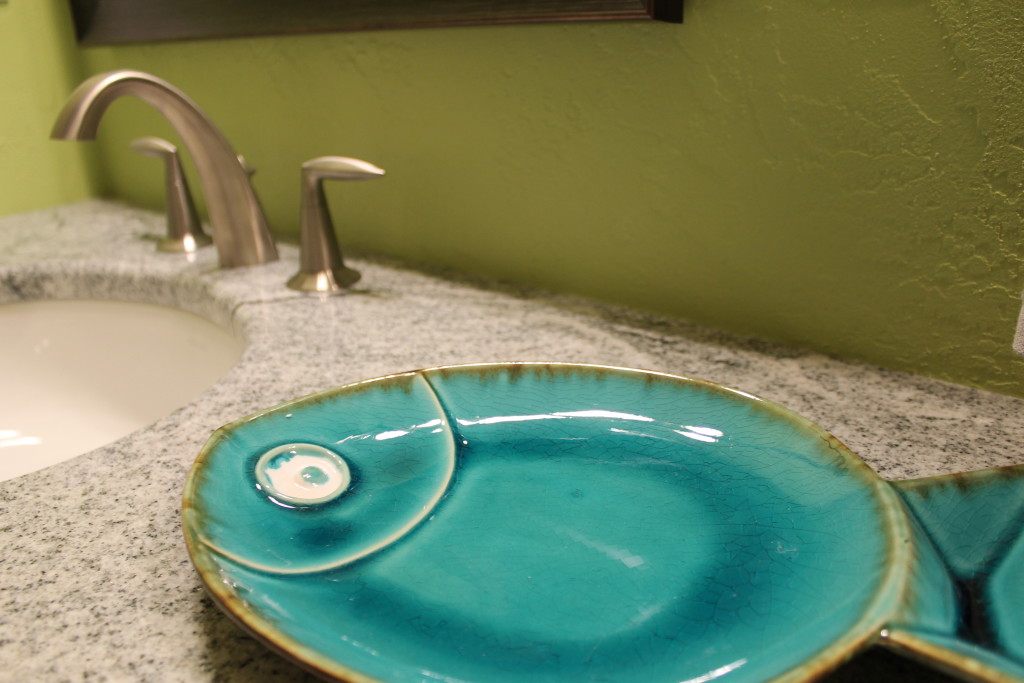 In the shared kid's bath, the walls get a boost from a bright lime green color, and this turquoise glass fish dish works perfectly as a soap dish!
In an unexpected piece of Art!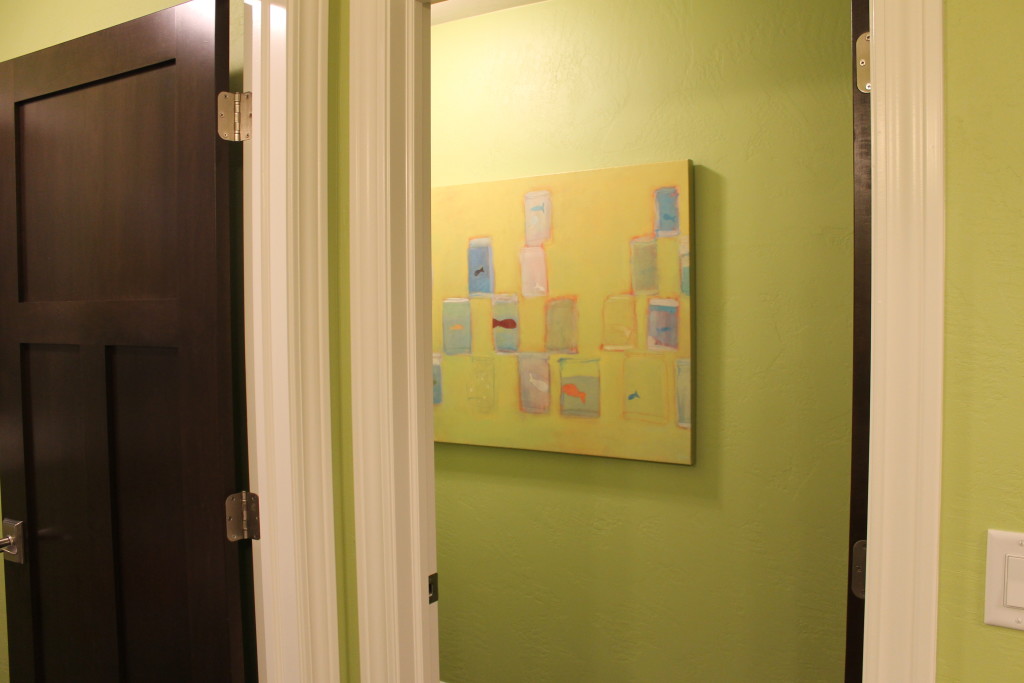 Sure, it is easy to pick out a heavily saturated turquoise piece of art, but a bit tougher to find the piece where it is only a small accent.  My eye immediately goes to the blue in the unique piece of art hung in the water closet of this kids bath on the second floor!
And finally-
As Kitchen Bowls…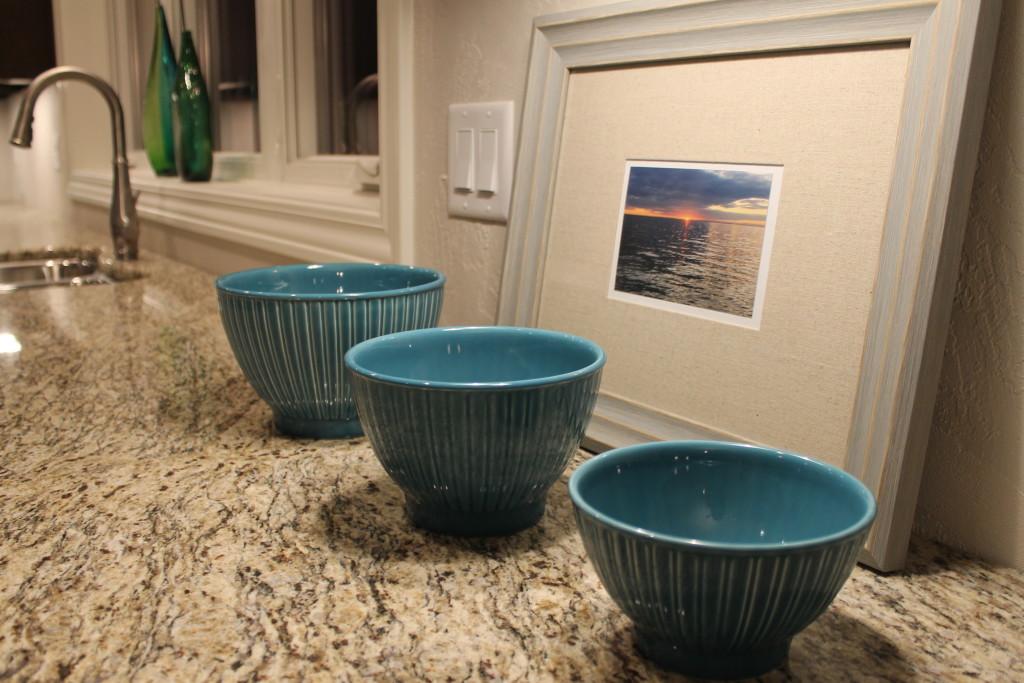 Why not add a trio of colored bowls to an otherwise crème and espresso kitchen?  A last touch in a house that has found a way to infuse the accent color into every aspect of its design in each room!
What do you think?  Too much of one shade?  Or a nice reminder of how to incorporate a dose of a color story throughout an entire home?
You might also Like: