Four New Ideas for Planter Combinations!
Spring officially began weeks ago- but here is WI, you would never know it!  It has been so rainy and cold,  most of us are behind on sprucing up our outdoor spaces.  About a month ago the only color were these newly emerging bulbs for sale.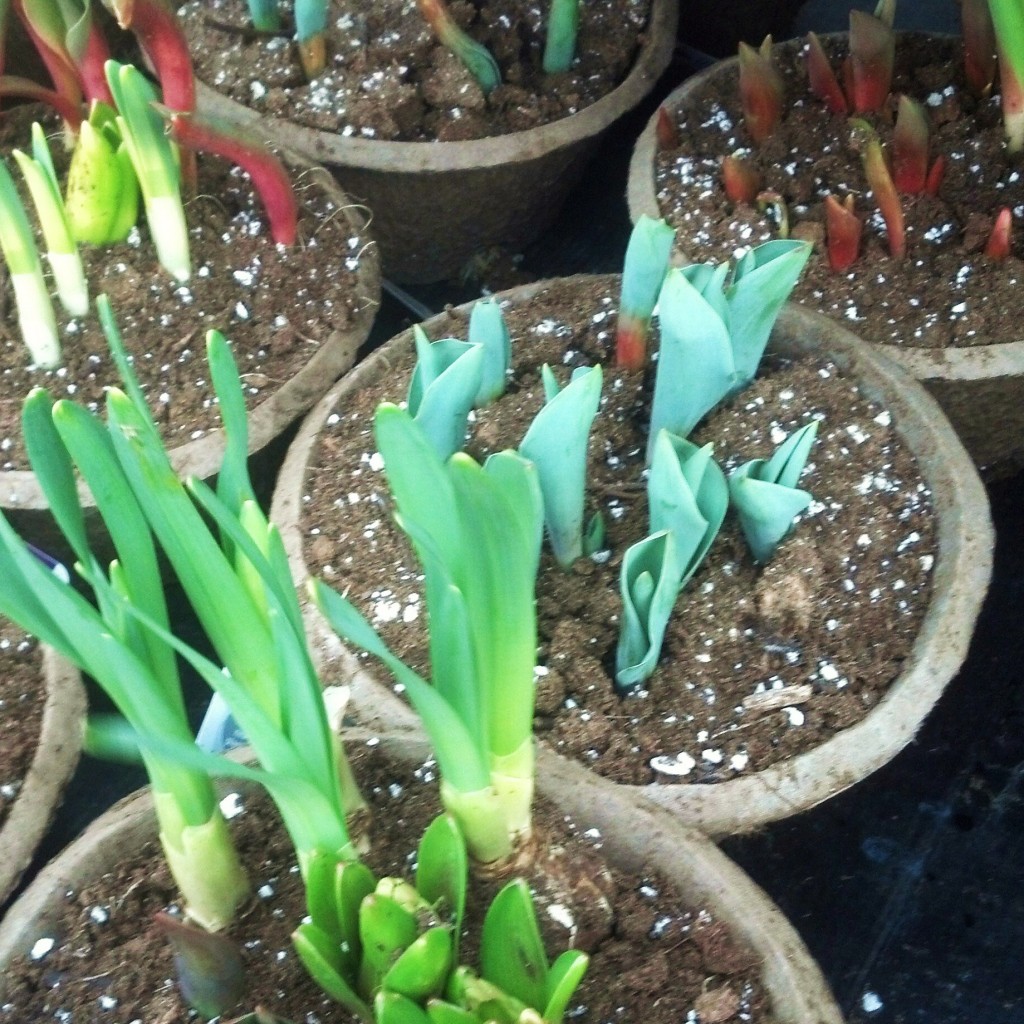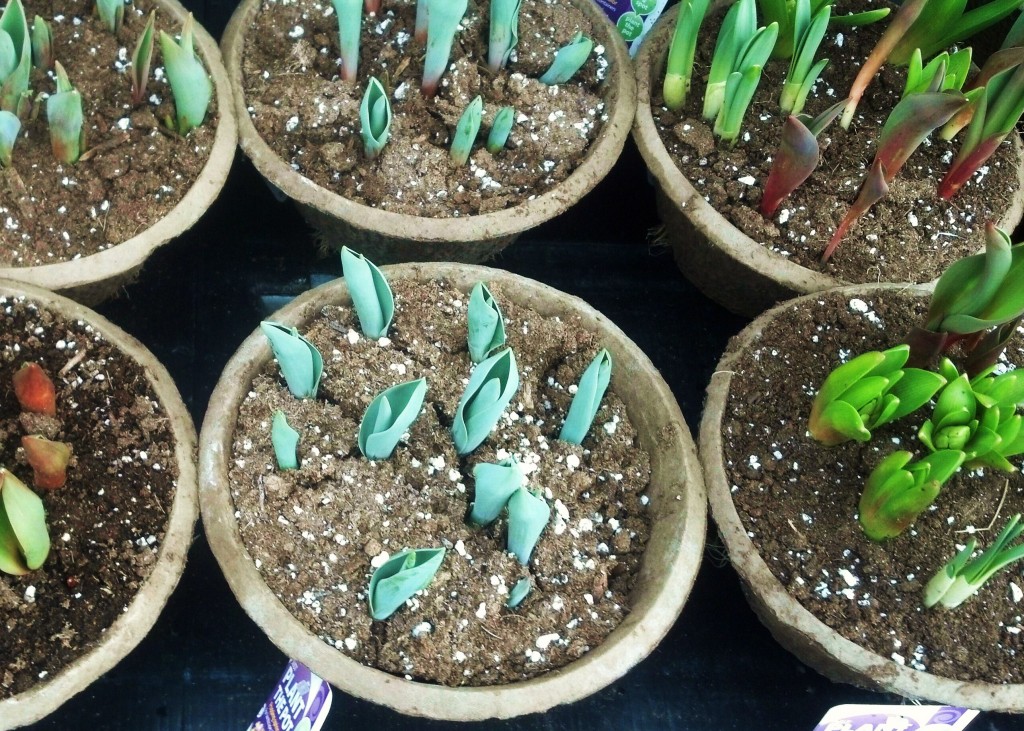 I had pink hyacinth and yellow daffodils blooming in my two planters for Easter, but now that they are spent, I'm ready for something I can enjoy all summer long!  But I have been on the hunt to find more unique planter ideas to share with you!
Which brings me to this…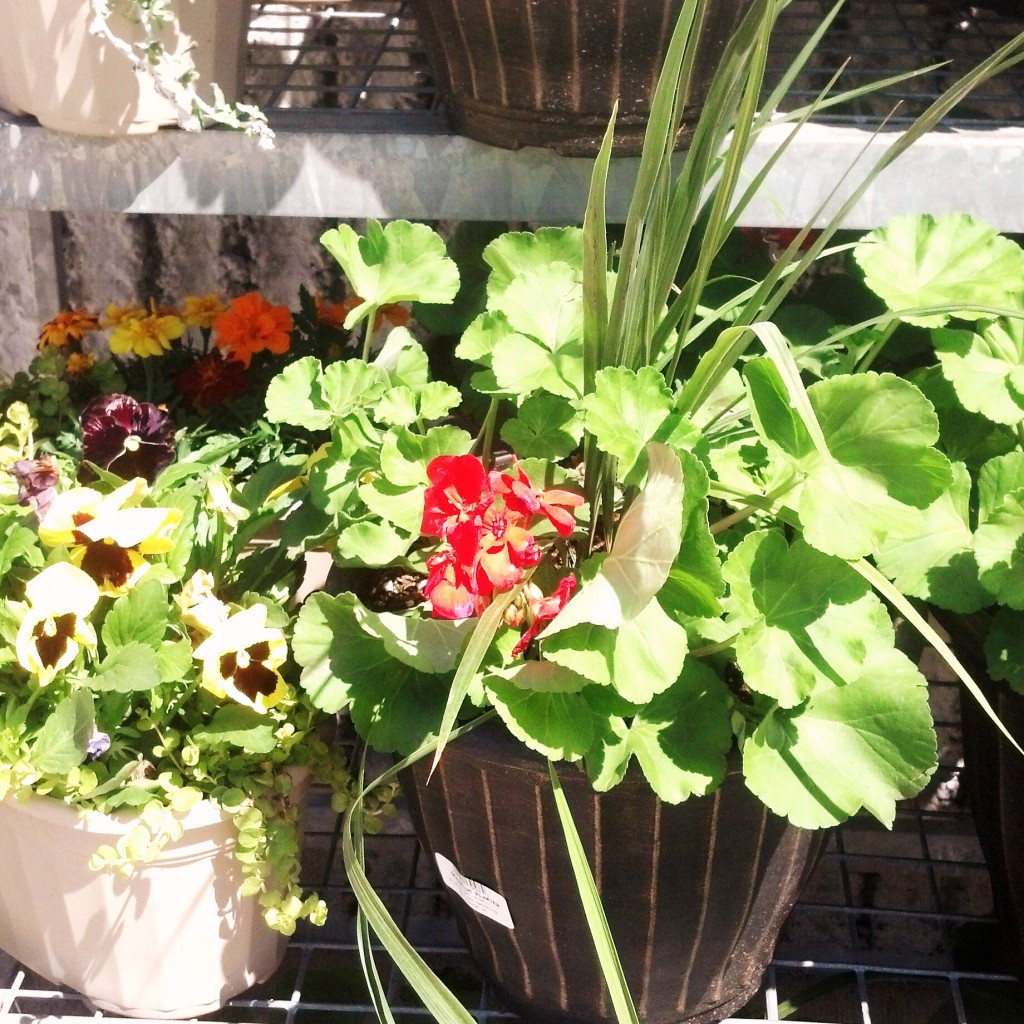 Does this look familiar?  This is what I would call an "industry standard."  Green-leafed, red flowering geranium with a green spike grass.  Low maintenance, will bloom all summer. Easy.  Dependable.  But not very exciting.
Instead, try recreating something different, like one of the four options below!  I've broken them out to include the three elements you should keep in mind for any winning planter combination:
Height:  most planters can benefit from a taller element to draw the eye up

Color:  this is your flowering element, or dynamic foilage

Trailing:  just like the tall element draws the eye up, the trailing element will stretch the interest downward.
And here are four new ideas for planter combinations!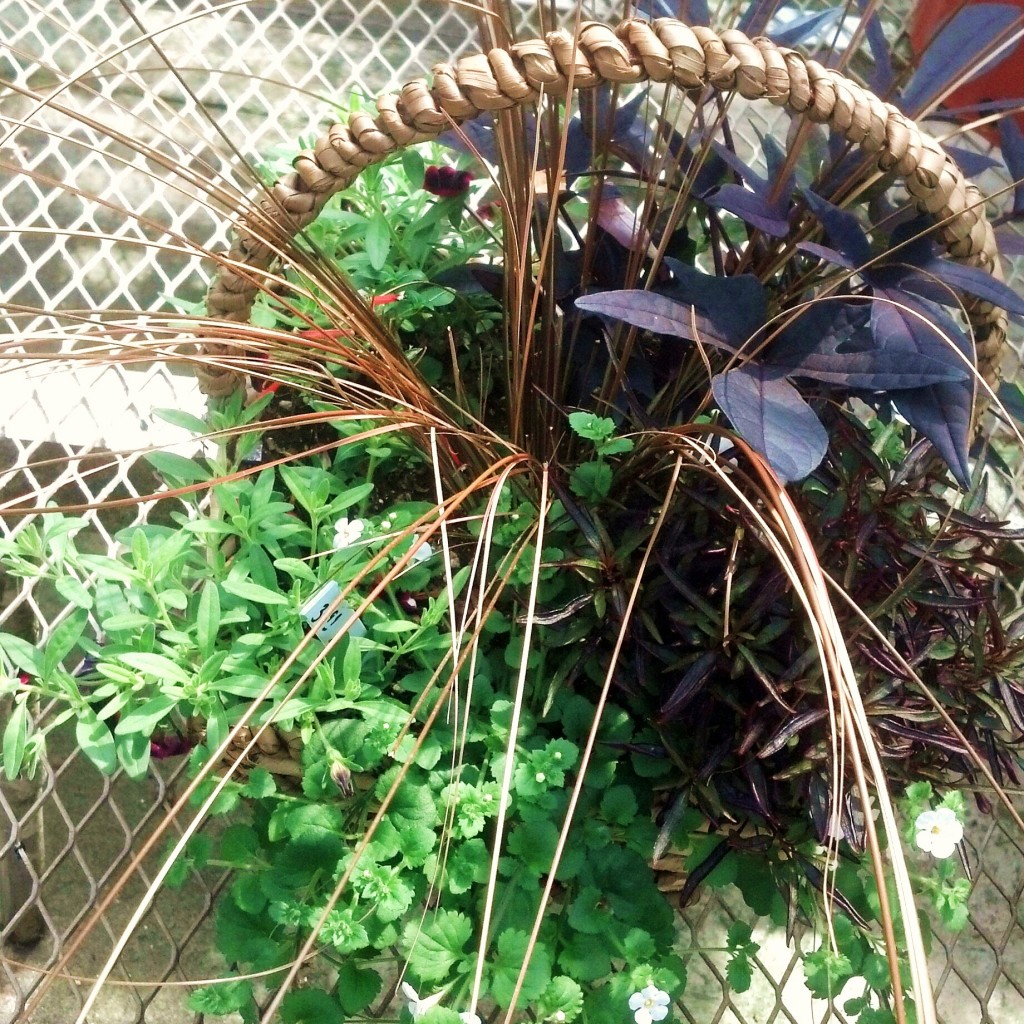 High contrast.  Purple foilage against white flowers, round leaves contrasted with spikey! (Full sun to partial sun)
Get the look:
Height:  Use a sedge grass to get this spikey look, or substitue the more common purple fountain grass for fall plumes.
Color:  The other purple plant looks like a variety of euphorbia, but for an easier off the shelf substiture try a coleus or grab a new dark leafed coral bell (heuchera) from the perennial section.  Just remember to snip the flowers so they don't compete with the grass for height.
Trailing:  The trailing element of this basket is Snowstorm, a sutera variety, also try a licorrice plant available in a frosty grey green foilage.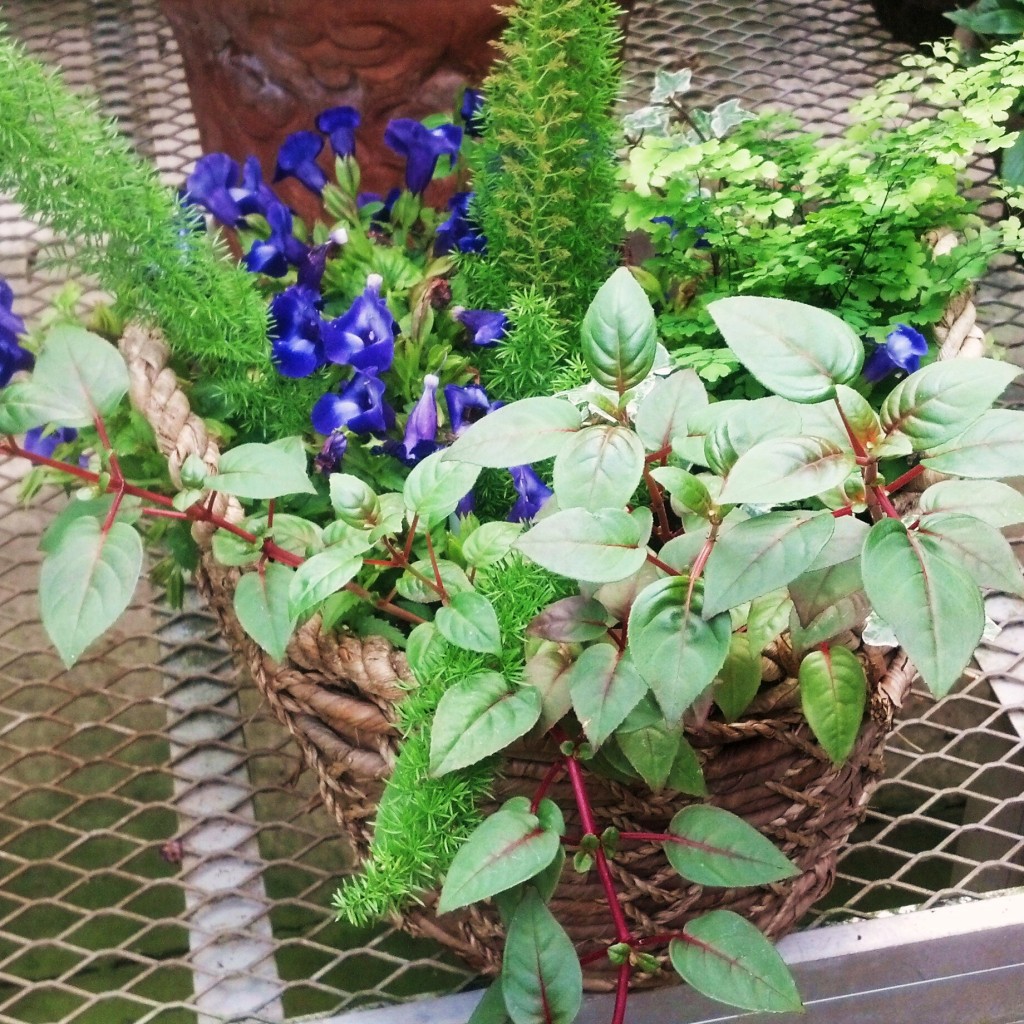 Woodsy and Natural looking! (Shade)
Get the look:
Height:  Asparagus fern variety, also pictured in the back of the planter is maiden hair fern, which is a delicate looking fern found right here in our WI woodlands.
Color:  The bloomer in the basket is the electric blue lobelia.  Lobelia is a great planter option available in many colors.
Trailing:  Beefsteak Plant or a Zebrina Pendula, which is more of a house plant but can be used outdoors in summer.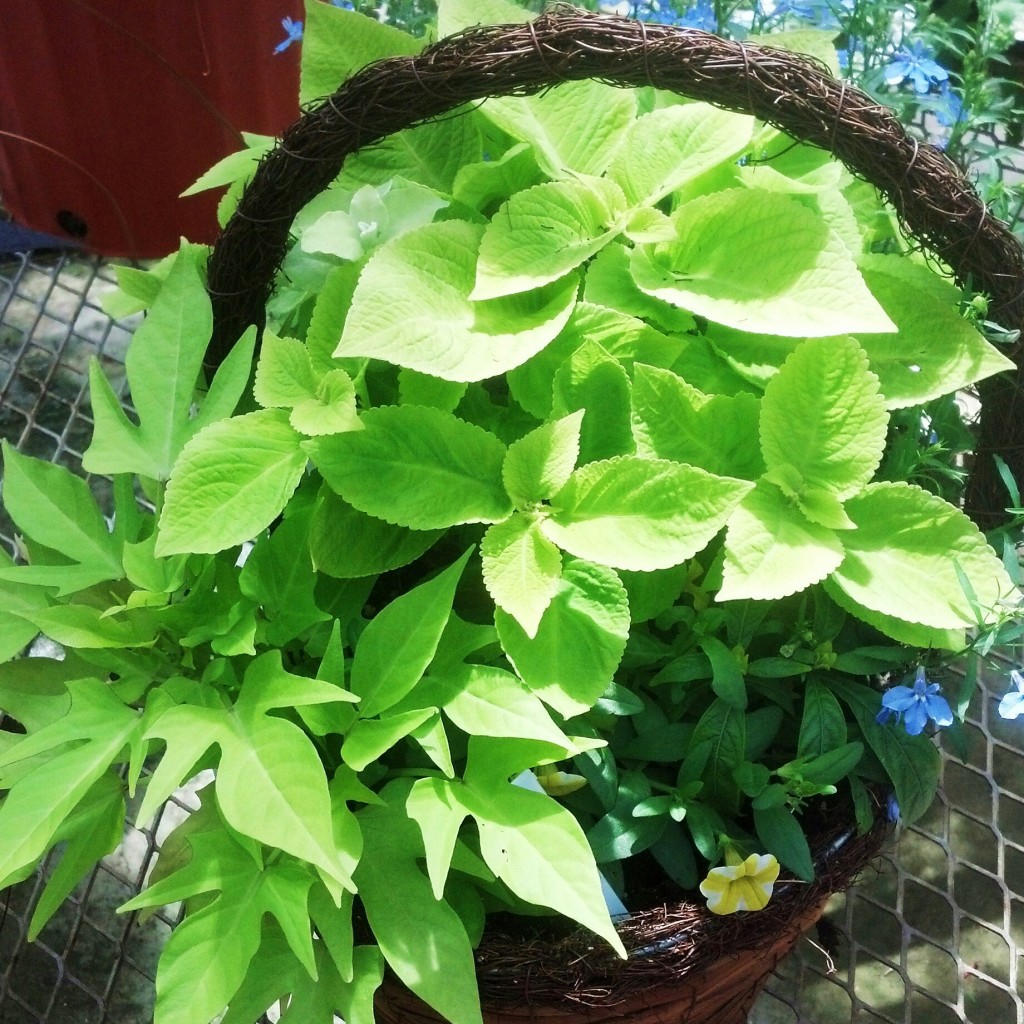 Simple but bright!  Lighten up a dark corner on your porch or patio with this pop of chartreuse! (Partial shade)
Get the look:
Height:  A coleus variety known as "The Line."  Also substitute this for a hosta like "Daybreak."  You will need to buy hostas off the perennial rack, but their foilage options for shade planters shouldn't be overlooked.
Color:  Pictured are the calibrachoa hybrid  (superbells) "Lemon Slice" but I'd recommend a pink impatien flower with these lime green leaves, or a wave petunia variety if you have a bit more of a sunny spot.
Trailing:  Lime green sweet potato vine, a favorite of mine!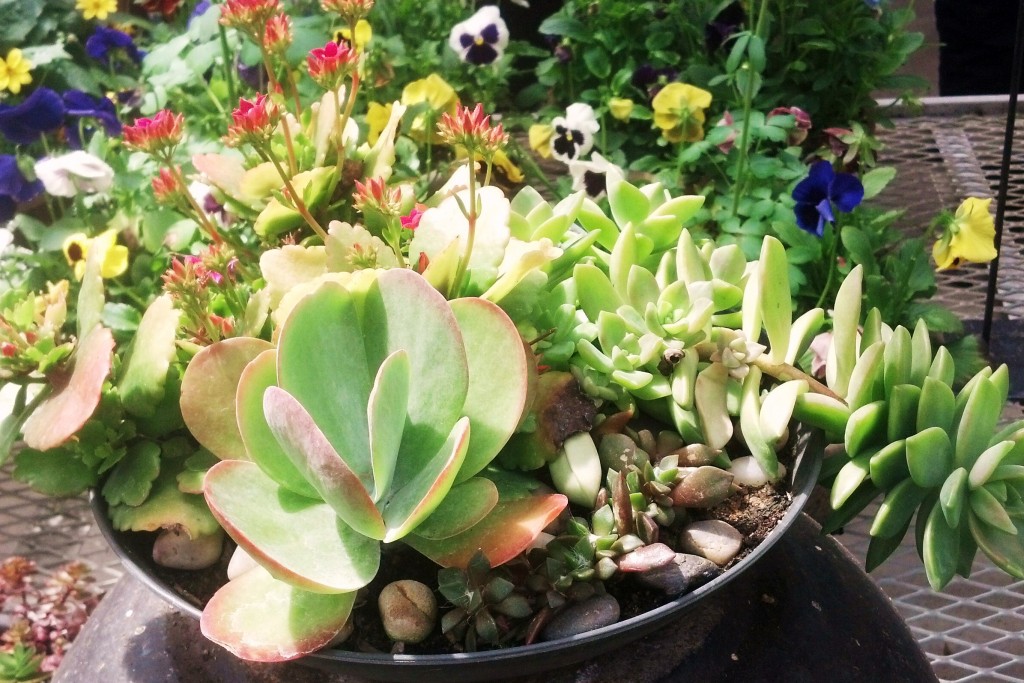 Low and mounded.  Succulant-style for drought tolerance.
Height:  Little pink flowers spring up from the Hen and Chicks (a variety of sedum).  Also try the miniture armeria, or sea pinks (perennial) that has a tight mound of green foilage with pom pom looking blooms on leafless stems.
Color:  Pictured are a viola/pansy variety with a combination of colored blooms.
Trailing:  Succulant such as Donkey Tail (also in the sedum family).  Also try some of the kalanchoe varieties with more  trailing foilage.
And there you have it!  Hopefully that inspired you to try some different combinations.  It sure got me ready to do some planting!  And that succulant combination idea is the perfect starting point for the fairy garden I need for Fairy Fest!  Here's what I had last year: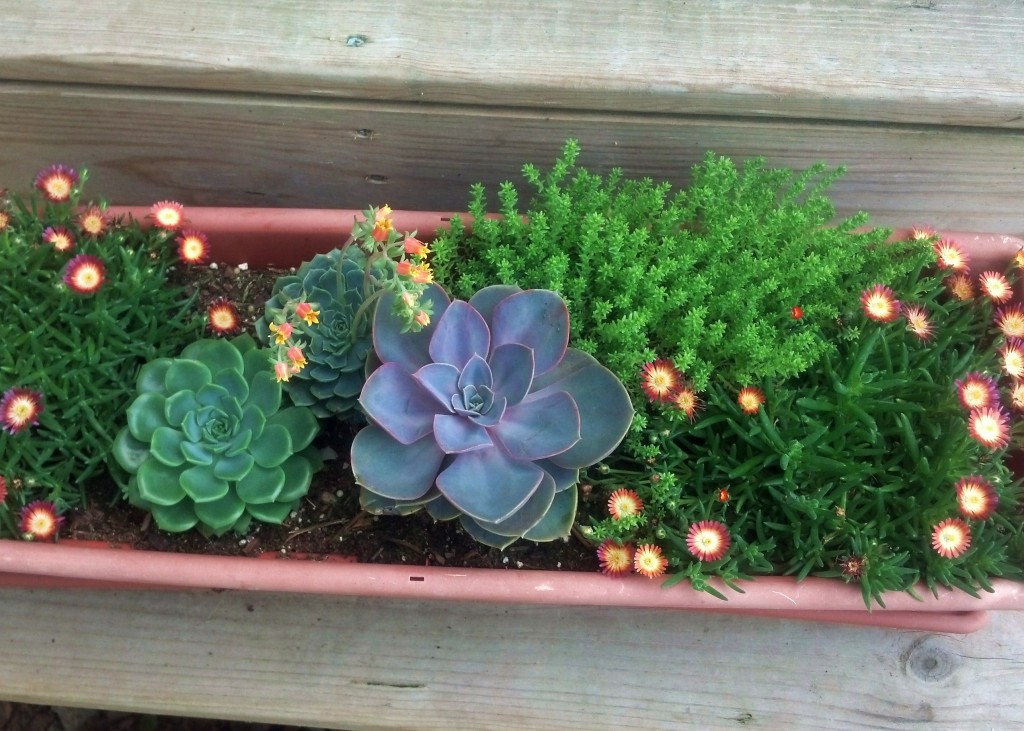 I'll keep you posted on how this project progresses!
How about you?  Any winning combinations newly discovered?