If you watch the Golden Globe-winning comedy, Brooklyn Nine-Nine (starring Saturday Night Live alum Andy Samburg) you might have seen the episode where everyone had a laugh at Boyle's freshly printed "STD" cards- Save The Date.  No wonder that is not a popular abbreviation!  But the idea behind the Save the Date card is solid.  Give me something way ahead of time to remind me that there is something coming up I might want to attend.  We are busier than ever, double-triple booking ourselves and it is easy to forget what's on the calendar.  And I am sure that most of us whisper a thank you when Facebook reminds us of an important birthday that previously skipped our mind.
I've created our very own Save The Date cards for the annual MDH & Jon Huss Custom Homes model home tour event.  The Fox Valley Gallery of Homes is featuring 11 new construction homes built in great subdivisions across the Fox Valley.  Not only does the event provide you with a plan book, it will help any newcomers to the area feel out some of the best neighborhoods.  It is also a great tool for those of you already building with MDH or Jon Huss to see different siding colors, countertops and paint selections!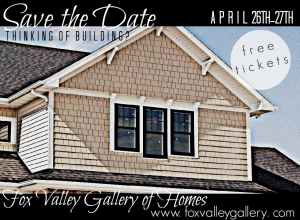 Tickets are free if you want to leave your name and e-mail address in the comment section below!
Remember to SAVE THE DATE!